How to Become a Business Analyst in 2023
According to the U.S. Bureau of Labor Statistics (BLS) data, employment of management analysts – including business analysts – is expected to grow 11% from 2021 to 2031, a significantly higher projection than most other occupations. A review of popular job boards provides further evidence of its popularity, with many promoting thousands of Business Analyst openings.
As of February 2023 here at Akkodis alone we have over 240-business analyst openings nationwide. The Akkodis 2022 Salary Guide reports a median base salary for business analysts is $96,609. Entry level business analysts started around $61,138 while those with high experience reported earning over $105,000 per year.
The role of a Business Analyst is a key agent of change and progress for many different industries, straddling the line between IT and business teams. Whether they are working in banking or insurance, small start-ups or large corporations, the common thread amongst these organizations is the objective of solving business, organizational or system problems through technological innovation as a team.
While you don't necessarily need an in-depth IT background, the position of Business Analyst is a great opportunity for candidates seeking to marry their soft business skills with their understanding of technology solutions. So, are you ready to learn more about what it takes to become this key leader of technological solutions? Read on to see if you have what it takes to become a Business Analyst!
5 minutes
20th of March, 2023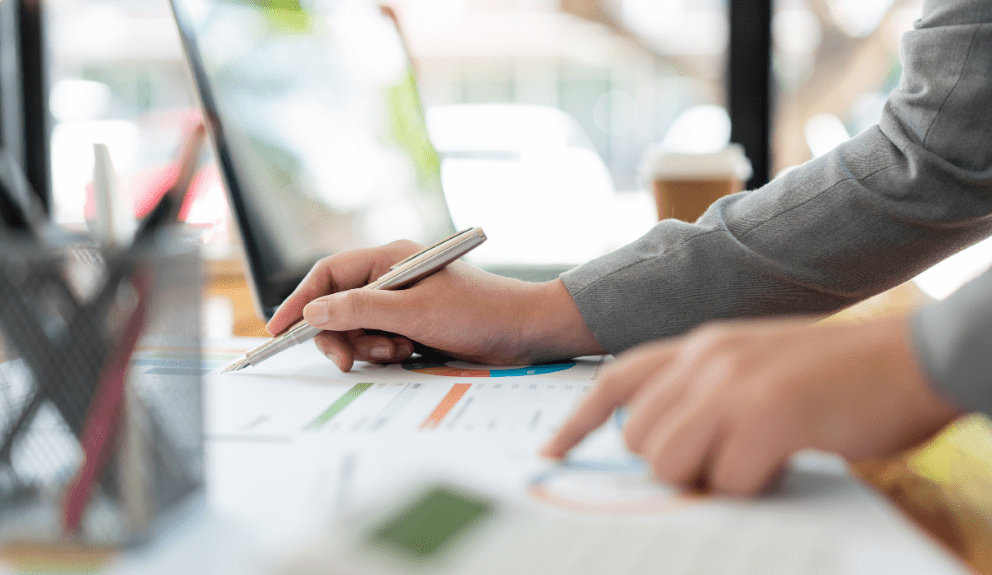 What is a Business Analyst?
The core function of a Business Analyst is to create requirements for IT professionals. These requirements are a result of understanding an organization's current environment, identifying challenges and then determining what functionality would be required by a technology solution in order to overcome them.
Whether your efforts are aimed at reducing costs, improving efficiencies, or increasing sales, working as a Business Analyst, you might start by completing a competitive data analysis. Then you'll work to prepare research and reports to summarize your findings and present these to executive business leaders.
Some Business Analysts may specialize in a particular industry, or work within a specialized department such as marketing or human resources, or they may serve as a general practitioner if they work for a smaller organization.
After reviewing current job postings for Business Analysts, here are a few examples of popular responsibilities:
Provide analysis support for making the operations more efficient, particularly at scale
Collaborate with software engineers to bring requirement specifics into manageable solutions
Pinpoint functional and system requirements for complex business processes
Provide analytical support through the analysis and interpretation of data in support of cross-functional business operations.
Define business requirements and provide analysis toward operational efficiency.
One of the key differentiators of the Business Analyst role, and perhaps the most challenging, is the blend of both business acumen and communications skills with a solid foundation of IT systems, processes and tools. Here are some examples of those distinctive skills:
In a business-focused role, a Business Analyst may have these responsibilities:
Understanding the needs of multiple stakeholders.
Facilitating the negotiation of requirements amongst multiple stakeholders.
Identifying the current and future-state business processes.
Helping the business stakeholders envision the future and how their work will need to change to support the future.
In a technology-focused role, a Business Analyst may have these responsibilities:
Creating, analyzing, and validating detailed functional specifications.
Facilitating design sessions with the implementation team to define the solution.
Delivering elements of systems design, including data migration rules, business rules, wireframes, or other detailed deliverables.
Requirements and Qualifications to Help You Stand Out
Education
The education and training requirements for Business Analyst jobs vary by employer, specific role and industry. While it's possible to enter the field with a two-year degree and relevant experience, most employers do require at least a bachelor's degree. Because business analysis degree programs may not be widely available, many professionals earn a degree in related fields like information technology or business administration and pursue specialized training through executive education programs. Having a strong background in data science or computer science can help you prepare for your business analyst position.
While a Master's degree in business is not often required for a Business Analyst role, some employers may consider an MBA or master's degree in lieu of further years of real world business experience.
Don't have the right educational background? Candidates may also want to consider obtaining a certification from the IIBA (International Institute of Business Analysis) – this global leader for Business Analysts help professionals obtain varying levels of Business Analysis certifications based on hours worked in the field, recorded study hours, exams and professional references. The IIBA doesn't require candidates to have a Business Analyst job title, so this could serve as an effective tool for transitioning into the Business Analyst role by leveraging other qualifying experience.
Demonstrable Gap Analysis Experience
Most typical job postings place heavy emphasis on candidates possessing a number of years in the business analysis field, and specific experience within their particular industry is also a strong preference. Many jobs also call for gap analysis experience – essentially the core function of a Business Analyst whereby the analysis demonstrates whether business requirements are being met and, if not, what steps should be taken to ensure they are met successfully.
While you may not have held the title of a Business Analyst, it's very possible that you have performed a gap analysis in a previous role. For example, a digital marketing manager may work with ESPs (email service providers) and could outline an instance where they have evaluated the provider to determine where there are gaps within their services that don't align with their customer outreach strategies.
With the right preparation, you can craft your resume and cover letter to highlight a time you have evaluated your current business processes and uncovered a strategy to address unmet needs.
Technical Experience
While you don't necessarily need to have a technical degree, many job postings will include language such as "advanced technical skills" or require IT business related experience such as software development, project management, or technology support/training.
These requirements provide a great opportunity for those with a more robust IT background looking to transition into the business side of the organization to really shine - as having a thorough understanding of technical architecture along with the confidence to communicate to those you don't, is germane to the Business Analyst role.
Communication and Other "Soft" Skills
Like many business roles, non-technical skills that accumulate from experience are heavily emphasized in a Business Analyst's responsibilities. Skills like strong verbal, written and interpersonal skills are highly valued – perhaps because a Business Analyst spends a considerable amount of time both communicating to IT professionals on technical requirements and non-technical business executives.
Some of the resounding soft skill requirements we noted in current Business Analyst openings including the following:
Strong time management skills
Strong analytical and problem solving skills
Proficient project management skills
Excellent written and verbal communication skills, with demonstrated ability to translate difficult concepts to non-technical users
Comfortable in an entrepreneurial environment
Good group presentation skills and ability to convey complex information to a broad audience
Strong interpersonal skills with the ability to build and maintain professional relationships
The vast majority of these skill sets are by no means exclusive to the Business Analyst role, giving candidates looking to transition into an analyst role a significant opportunity to demonstrate to employers how they have acquired these qualities through other comparable job functions.
Self Development, Networking, and Interviewing for that Dream Job
Are you ready to start setting your sights on your dream Business Analyst role? Here are some actions you can take to ensure you are putting your best foot forward towards landing the job.
1. Attend a Conference
Conferences provide professionals a unique opportunity to learn industry insights among other professionals and more senior leaders. Not only can you attend workshops, speaker sessions and other educational activities, but there are typically more informal events such as happy hours, dinners and trade show hours where attendees have a great opportunity to network – a critical skill for jobseekers. While it's not necessarily advisable to list conference attendance on a resume – mentioning valuable insights you took away from the experience during an interview would be an excellent strategy to demonstrate your commitment to the field and personal initiative. There are many great conferences specifically geared towards business analysts throughout the US every year.
2. Polish Up Your Resume and LinkedIn Profile
Again, depending on your current role there may be many skills and experiences you have that could be showcased to emphasize how you are prepared for a Business Analyst role. Where possible, try to ensure you utilize appropriate verbiage such as gap analysis, requirements, business stakeholders, etc.
LinkedIn is another indispensable tool for jobseekers looking to further their career or transition into a new industry. Start by ensuring your profile is complete and try to demonstrate an interest in the business analyst field – for example, if you are able to attend that conference, you could post an article or simply share photos from the event detailing your experience there.
LinkedIn also provides excellent opportunities to follow companies and industries you're interested in so you can get up to speed on current events and learn more about the organizations where you may wish to work. Finally, make sure you connect with Tech industry recruiters, so you can be among the first to learn about new Business Analyst job opportunities.
3. Prepare For a Business Analyst Interview
Have you landed an interview for your dream Business Analyst role? Now it's time to make sure you are prepared to nail the interview and can confidently anticipate and answer questions related to business analyst functions and work experience. You should be prepared to answer questions aimed to test both your technical background/hard skills, and the soft skills discussed above. Here are some examples of potential Business Analyst interview questions:
How would you deal with a difficult business stakeholder?
What is the most important aspect of analytics reporting in your role as a business analyst?
Name three types of diagrams or charts that business analysts use, and explain why they are important.
What is the difference between a functional requirement and a system requirement?
Describe the different parts of an SQL statement.
How do you manage project timelines with change requests?
Do you think you have the skills required from top employers looking for a Business Analyst? Check out our business analyst openings and partner with an Akkodis recruiter today to start your journey towards a career as a business analyst.