India in Focus: Introducing aeronautical engineer Jahnavi Sata
Jahnavi Sata didn't find work as an aerospace engineer immediately, but a career at Akkodis soon allowed her to move into her dream job. Jahnavi explains how she was initially inspired by tackling the problem of rubbish in space – and why the 'Silicon Valley of India' is a great place to work for the technically minded.
5 minutes
7th of August, 2023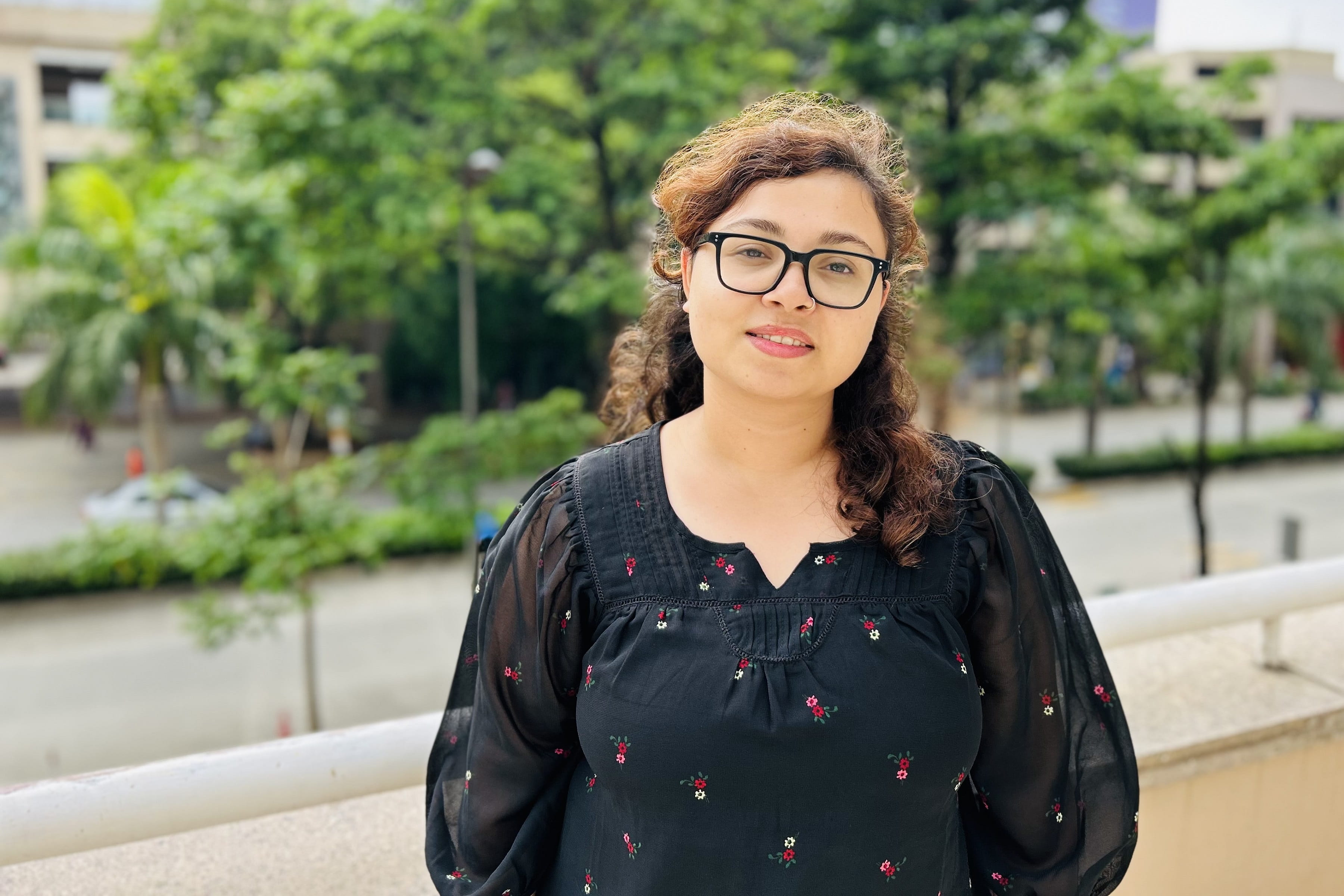 As an undergraduate, Akkodis aeronautical engineer Jahnavi Sata had the vastness of space in her sights – or more specifically, space junk. "When I was training in aeronautical engineering, a couple of fellow students and I were looking at the issue of space debris," she explains. Space debris accumulates when we launch rockets and satellites into orbit. "The debris poses a constant danger to satellites orbiting the Earth, but removing it can be really difficult and costly."
Rising to the challenge, Jahnavi and her friends researched techniques for removing space debris easily and cost-effectively. Her team's solution proposed launching a small rocket to the debris location and deploying a net to capture space junk, such as satellites that have stopped working.
"The junk would then be discarded on re-entry into the Earth's atmosphere, burning it up so it couldn't do any damage," she says. The results of the team's research were published by the International Journal of Applied Research and Technology while Jahnavi and her peers were still studying at the SJC Institute of Technology in Karnataka, India.
That kind of engineering prowess helped Jahnavi secure an internship at Hindustan Aeronautics in Bangalore, one of the world's largest and oldest aerospace and defence companies. At Hindustan, she worked on a helicopter engine replacement project for the defence industry.
"I was able to learn about how the helicopter's weapons systems worked, and also to sit in the cockpit to control the rotary wing and engine." She also trained at Indian computational fluid dynamics specialist S&I Engineering and the Centre of Excellence in Aerospace & Defence in Bangalore.
Overcoming challenges to pursue an aerospace career
Despite all her experience during the pandemic, Jahnavi was initially unable to get a job as an aeronautical engineer. But she was attracted to Akkodis by our international profile and clients in the sector. Jahnavi eventually joined as a sourcing specialist, supporting our teams in Germany in recruiting for automotive and aerospace.
"Working as a recruiter, I was responsible for conducting initial conversations with potential employees via LinkedIn and email. The job gave me a chance to use my engineering background, and it was great to work with people from different cultures. The role built up my confidence in communicating. But my goal was always to get into aerospace."
In November 2022, Jahnavi learned of an Akkodis program that enabled technicians to transfer to different parts of the business. Her manager arranged an interview for a project at an Akkodis client.
With plenty of guidance to enable her to prepare, she aced the interview, and thanks to all her experience was able to move into the Akkodis aerospace business, where she is now working on a flight warning project for the customer.
(When the aircraft is in flight, it's the flight warning system that alerts the pilot to any problems, such as a fire or issues with engine thrust, via a control panel. The system also advises actions to take in an emergency.)
"The design is already very refined with a lot of existing standards, so the project is about it making small modifications and improvements," Jahnavi explains. But there's more involved. "We also help the client make certification software standards for the flight warning system. Our role is to help develop, modify and support on each step until the standard is certified by international agencies," she says.
On-the-job learning and a supportive culture
Akkodis provides a supportive environment for its engineers, she adds. "I feel like I am learning all the time, and as there is a lot to learn, I can always go to our senior engineers if I need help. Akkodis is a great place to work because we are in so many industries. It is not just aerospace, but automotive, IT, biomedical, energy, defence – the list goes on. At Akkodis, if you feel you are not working in exactly the area you want to be in, you can learn new skills and go into it. Not many companies offer so many options."
With ambitious growth plans in India, Akkodis Engineers are able to work on global projects, travel, and gain valuable new skills and experience. "I may get the chance to travel for work in the future, and I'm really looking forward to that," says Jahnavi.
For now, however, Bangalore is where it's at. "We call Bangalore the 'Silicon Valley of India'. There are huge opportunities in IT and engineering. And so if you're a technical person, it's a great place to be."
Aerospace, defence and space are just some of the sectors Akkodis works in. Want to find out more about opportunities with us? Visit our careers pages.