The New Sky Economy
Innovating in space has never been more accessible. With lower launch costs, the sky's no longer the limit, and satellites are soaring in numbers.
3 minutes
30th of October, 2023
New generations of satellites are becoming increasingly software-defined, and satellite-provided services becoming more affordable for a growing number of application developers. The communication infrastructure floating high above our heads is already an integral part of our lives and livelihoods. It will become even more so in the future.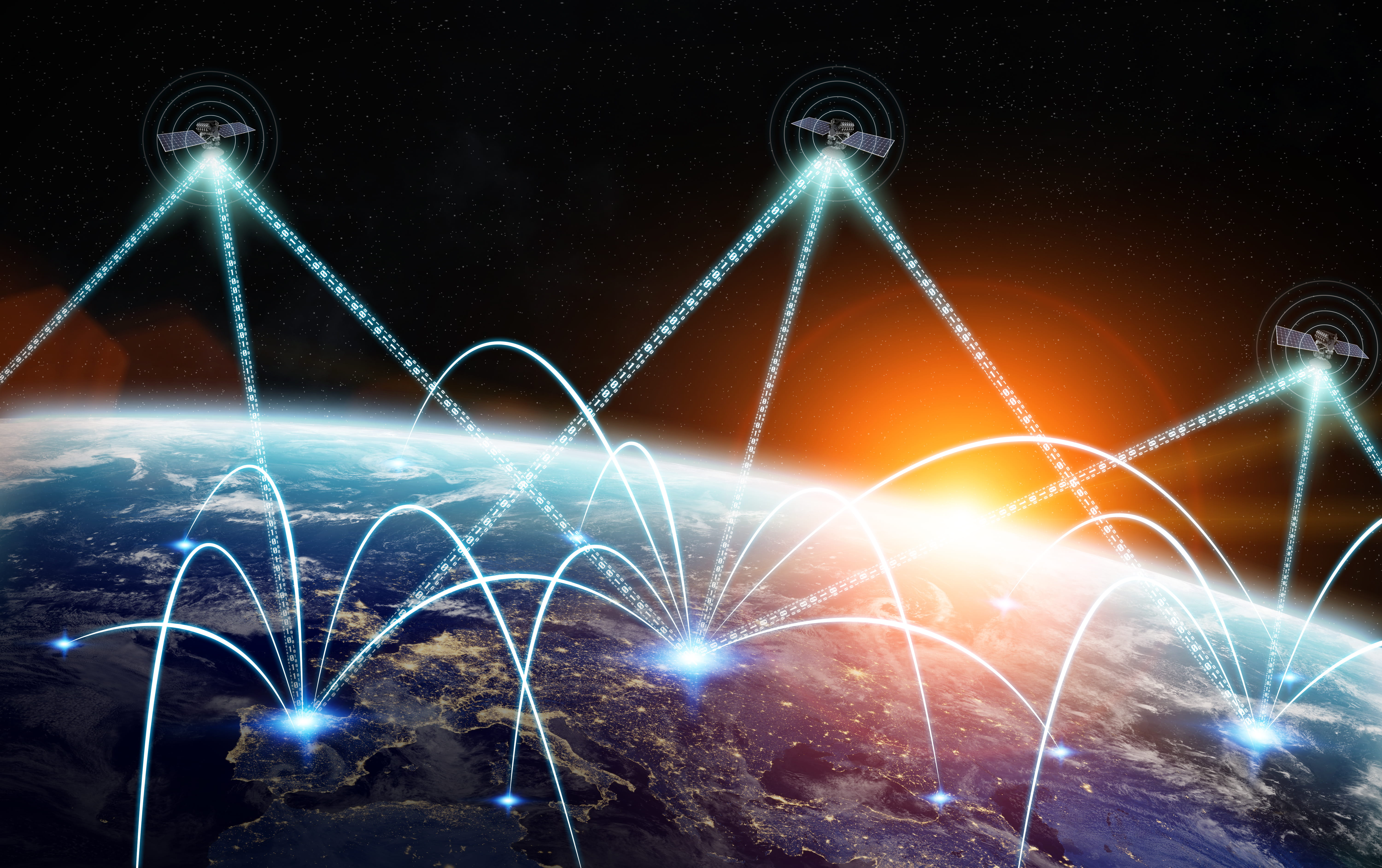 This article was originally published in Thinkers & Makers, a magazine from Akkodis featuring the smartest minds and innovative projects that are driving the future of technology and engineering.
The New Sky Economy is Upon Us
More and more satellites are circling the Earth, whether they're large conventional satellites positioned in high and medium Earth orbit or the new, emerging low Earth orbit satellite systems. The closer to Earth they are, the smaller and more numerous they become, going from 10s to 100s to even 1000s, although these swarms of mini satellites are still in their infancy. Experts call this trend "The New Sky Economy".
Our satellite infrastructure is becoming more and more powerful to serve the needs for communication, exploration and monitoring: Earth observation is growing progressively fine-grained, for scientific, commercial and defense purposes.
The satcom domain is evolving rapidly to cater to the connectivity demands for IoT, M2M and various mobility applications. Satellite navigation is evolving into an indispensable tool for many purposes and an integral part of diverse autonomy solutions.
Space Engineering is Adapting
Development time is shortened for increased competitiveness, and cost reduction is high on the agenda. A way to achieve both is moving towards large series production and from "hand built" to industrial manufacturing.
Payload systems are becoming more sophisticated as remote sensing technologies for Earth observation, satellite navigation, and other fields continue advancing. Additionally, new generations of radio technology are emerging to cope with the steady increase in data rates.
Digital technology is indispensable for the development of new applications and services as well as in optimizing the tools for system engineering, testing, simulation and more. Technologies like cloud and machine learning are giving rise to scalable and innovative business models, lowering the threshold for entry into the space sector. Security and safety are a top priority, whether it's mission safety, cyber security or data processing and analysis.
The Software-Defined Satellite
Arguably, the most fundamental change in satellite technology is the advent of the Software-Defined Satellite. By moving more properties from hardware to software, new satellites can get their payload redefined from the ground system instead of being statically configured.
The payload, which is the equipment the satellite carries to carry out its mission, can be reconfigured remotely. This way, operators could take a telecom satellite and give it another mission instead of launching a new satellite.
This capability is a game changer in the industry, allowing new generations of satellites to adapt to new roles in a much more agile manner. Satellites can be reconfigured and thus change their mission throughout their lifetime based on changing demand. The next-generation software-defined network from the ground to space promises more flexibility, such as providing coverage for moving targets or for temporary purposes like natural disasters.
Akkodis Space Software Service Center
Akkodis is involved in the design and simulation of Attitude and Orbit Control System (AOCS), and Satellite Operation definition and testing activities for the Thales Alenia Space InspireTM product line. The solution, which is software-defined and thus reprogrammable in orbit, allows satellite operators unprecedented flexibility in how they allocate capacity to adapt to changing demand.
In recent years, the Akkodis Space Software Service Center, has grown significantly, to address customer demand for software development. The center is developing software for mission control, satellite navigation, and image analysis for on-board segments as well as integration, verification and validation related to the ground segments.
Akkodis has contributed to the design and development of the Spacebus Neo geostationary satellite platform. Spacebus Neo features all-electric propulsion, a flexible, modular system architecture and highly configurable software, making the platform easily adaptable to different payload types.
Akkodis teams in Toulouse, Cannes and Bucharest were actively engaged in various aspects of the platform's design and development including the definition of payload configuration strategy, the development, validation and testing of Platform On-Board Software as well as the development of the satellite configuration database. In addition to the platform-related activities, Akkodis worked on software tuning and configuration for each satellite.
Supporting the EU's Earth Observation Program: Akkodis' Role
OneWeb is a constellation of 648 Low Earth Orbit satellites which aims to provide high-speed Internet access in areas not served by terrestrial links. Akkodis experts were involved in multiple areas of the project, predominantly operations engineering activities leading up to the first launch, as well as in orbit support such as in-flight anomaly analysis and technical follow-up. The team also provided support on functional validation activities.
The Copernicus Marine Service implemented by Mercator Ocean International, is the European Union's Earth observation programme, which monitors the health of the ocean. The programme offers information services that draw from satellite Earth Observation and non-space data to provide regular and systematic baseline information on the physical and biogeochemical state, variability and dynamics of the ocean and marine ecosystems.
Akkodis tech experts supported Mercator in the implementation of hardware and software infrastructure of the Copernicus Marine Environment Monitoring Service (CMEMS), integration of new operation chains, and the realization of Front and Back-office specifications.
"Since the start of our collaboration in 2018, Akkodis successfully put in place a team to support Mercator as it moved forward to greater operationality as an Entrusted Entity by the European Commission for the Copernicus Programme. Working in a very complex environment such as ours, at the edge of science (ocean forecasting, climate systems, Earth observations), of HPC and cloud computing, leveraging on Akkodis experts that can adapt swiftly to our context made a big difference. Today, while we are shaping up the future European Digital Twin of the Ocean (EDITO Horizon Europe Project) Akkodis experts support Mercator, empowering us with the most recent technologies", says Renaud Dussurget - Head of Operational Engineering, Mercator Ocean International.