Lead the charge.
An exclusive
paid internship opportunity

with Mercedes-AMG PETRONAS F1

About the Lead the Charge program
Akkodis is at the forefront of Smart Industry with the world champion Mercedes-AMG PETRONAS Formula One team to help achieve its commitment to Net Zero.
Akkodis "Lead the Charge" is a Sustainability & Talent program that offers a truly unique opportunity for one candidate to work within the Mercedes-AMG PETRONAS Formula 1 Team across the FIA Formula One World Championship season. Both organizations understand that achieving this commitment will require incredible people, the best technology, and creative minds. Together, we provide the opportunity for one selected candidate to drive a tangible difference to the team's sustainability goals.
Applications for the 2024 championship season will be open later in 2023. Graduates or anyone with a technical background and a passion for sustainability and motorsports are encouraged to apply for the role.
Lead the Charge - Sustainability Project Consultant, 2023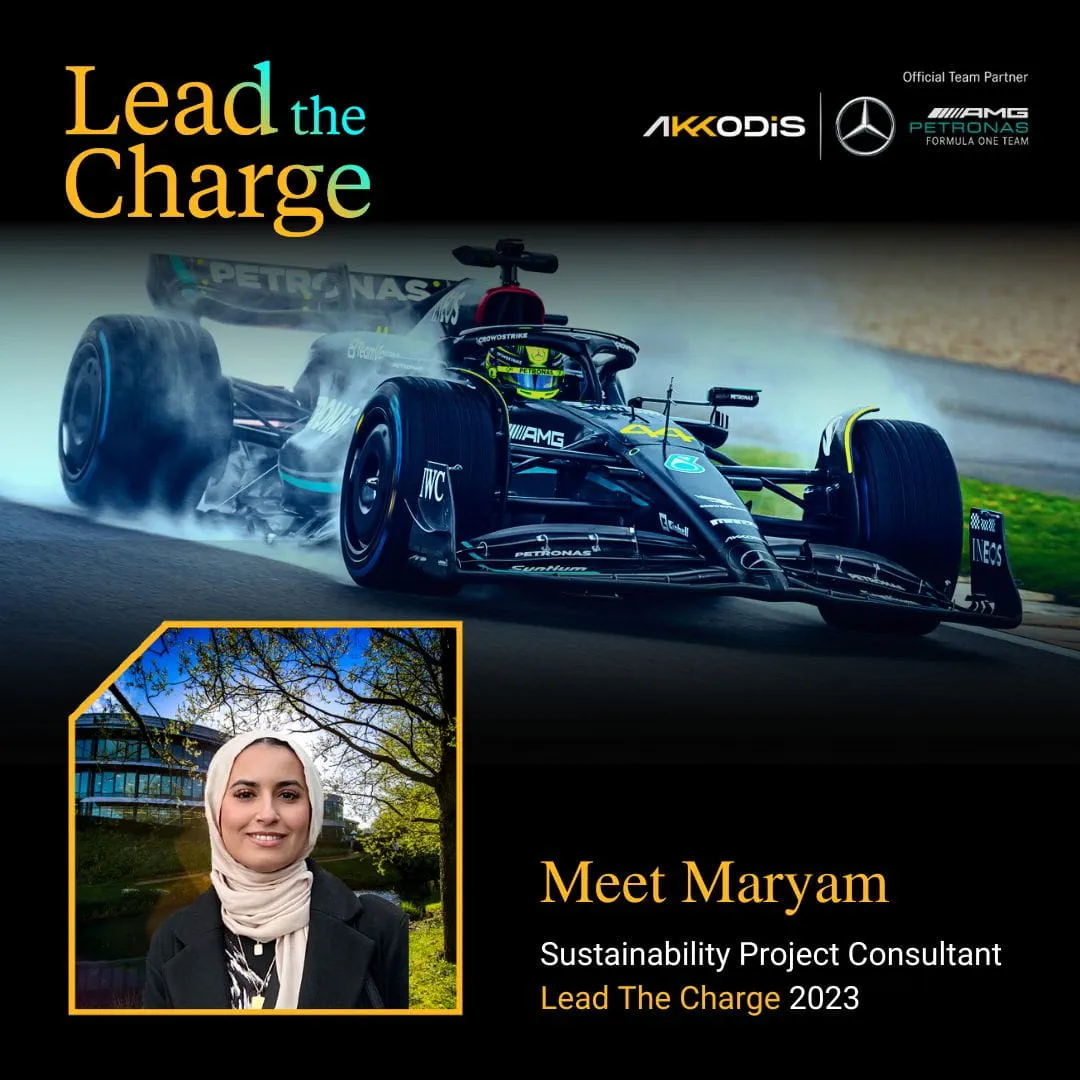 Introducing Maryam Shaban, the Akkodis Lead the Charge candidate selected to join the Mercedes-AMG PETRONAS Formula 1 Team for the 2023 FIA World Championship Season.
Maryam will take on a Sustainability Project Consultant role and will work alongside experts at the Brackley-based Mercedes-AMG PETRONAS Formula 1 Team to develop and implement solutions and work towards a more sustainable future.
Graduating with a Masters of Environment and Sustainability from the University of Western Ontario and having gained experience as a junior policy analyst with Environment Climate Change Canada, Maryam is passionate about sustainability. She exclaims, "I am excited that Akkodis has given me the chance to work on sustainability strategies with Mercedes-AMG PETRONAS Formula 1 Team! It is truly an incredible opportunity for me to take part in the development and advancement of various sustainability initiatives."
Hear from Maryam, the selected candidate of the Akkodis 'Lead the Charge' program 2023 as she embarks on an incredible placement year with Mercedes-AMG Petronas Formula One Team.
Q1. Congratulations Maryam! Firstly, what does sustainability mean to you?
Thank you! To me, sustainability means protecting the earth and using its natural resources responsibly. Sustainability is transdisciplinary. When we address sustainability and environmental issues, we will achieve the greatest change providing that we consider solutions from various perspectives. Sustainability and combating the implications of climate change to me, means ensuring I am setting up a great future for the next generation.
Q2. Where does the passion you have for a sustainable future come from?
I have lived my whole life in a city that depends on the steel industry to maintain economic growth. During my bachelor's and master's degrees I began to increasingly learn about the various impacts environmental issues had, from natural, economic, legal, and social standpoints. My academic studies planted my seed of passion. I was further motivated by the advancements in clean technologies and disproving the notion that sustainability will harm economic growth. Now I strive to make change wherever possible and push for innovative sustainable initiatives that will ensure long-term success.
Q3. Is there anyone in the world of sustainability that inspires you?
Christiana Figueres is a speaker who inspires my passion for sustainability. She directly worked to successfully bring about the Paris Agreement. Christiana also holds speeches and interviews to discuss climate change and push for sustainability internationally. Her speeches are inspiring and allow me to continue to grow my knowledge on the subject.
Q4. When you are not thinking about sustainability, what do you do in your free time?
This might still be sustainability related but I do enjoy spending time outdoors, whether it's riding my bike or going for a walk in a park. Honestly, I enjoy just being outdoors in general! Aside from that, I always enjoy spending time with my family. They're the best support system a girl could ask for.
Q5. Why did you decide to apply to the 'Lead The Charge' program?
I saw the opportunity posted online through the Lead the Charge campaign and applied because it's simply the opportunity of a lifetime. The description of the role really spoke to me and I felt it is a challenge I can tackle! I'm really happy to be a part of the team.
Q6. Why is F1 an area that excites you when speaking about sustainability?
F1 is a complex sport with many sustainability challenges and opportunities. I am most excited to embrace these challenges and demonstrate the power the sport can have to drive sustainable change, ensuring we can enjoy it for generations to come!
Q7. It must be so exciting to be starting a placement with the Mercedes-AMG PETRONAS Formula One Team. What are you looking forward to most in the coming months?
Yes, it is very exciting. There are many things I am looking forward to during my time with the Mercedes-AMG PETRONAS Formula One Team. As leaders in this space, the team have already created clear targets in the sustainability, so I am happy to provide a new perspective on their ongoing projects and inspire innovative ways to reach these targets. I really hope to make a difference with the team and push for sustainability both on track and in business.
Sustainability Project Consultant Paid Internship, 2023
The Sustainability Project Consultant is a tech enthusiast capable of combining technology and innovation to envision sustainable solutions in a high-tech, data-driven environment within the sustainability team over the 2023 Formula 1 World Championship season. Demonstrating a passion for motorsports and having a performance focused mind-set to help the team achieve their objectives, the Sustainability Project Consultant is a creative thinker who is capable of driving impact and difference.
Location
Brackley, UK.
Contract Period
Fixed term of 9 months (April 1, 2023 - December 31, 2023)
Download full job description (PDF 448kb)
---
On October 12 Akkodis hosted a LIVE Q&A session with the Mercedes Team who answered many viewer questions about the Lead the Charge Sustainability Project Consultant role and what it will be like to work with the world champion Mercedes-AMG PETRONAS Formula One team.
We discussed the main objectives of the role and how someone with a passion for motorsport and technology can drive innovative initiatives and create a more sustainable future together with the team throughout the 2023 Formula 1 season.