Lead the charge.
An exclusive
paid internship opportunity

with Mercedes-AMG PETRONAS F1

About the internship
Akkodis is once again at the forefront of smart technology, this time with the world champion Mercedes-AMG PETRONAS Formula One team to help achieve its commitment to carbon neutrality and drive the team's sustainability strategy.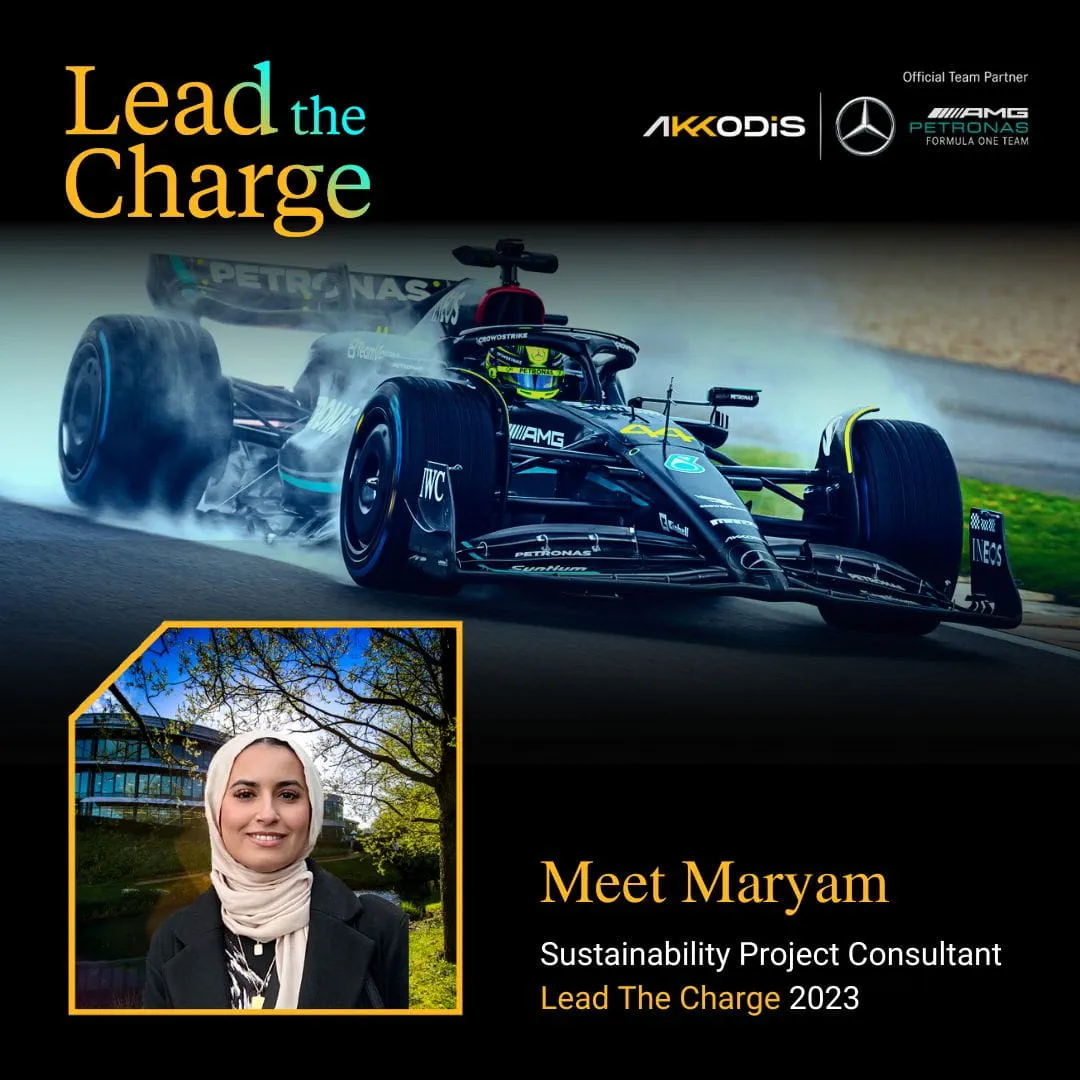 Introducing Maryam Shaban, the Akkodis Lead the Charge candidate selected to join the Mercedes-AMG PETRONAS Formula 1 Team for the 2023 FIA World Championship Season.
Maryam will take on a Sustainability Project Consultant role and will work alongside experts at the Brackley-based Mercedes-AMG PETRONAS Formula 1 Team to develop and implement solutions and work towards a more sustainable future.
Graduating with a Masters of Environment and Sustainability from the University of Western Ontario and having gained experience as a junior policy analyst with Environment Climate Change Canada, Maryam is passionate about sustainability. She exclaims, "I am excited that Akkodis has given me the chance to work on sustainability strategies with Mercedes-AMG PETRONAS Formula 1 Team! It is truly an incredible opportunity for me to take part in the development and advancement of various sustainability initiatives."
Internship Job Description
Sustainability Project Consultant Paid Internship
We're looking for a tech enthusiast capable of combining technology and innovation to envision sustainable solutions in a high-tech, data-driven environment within the sustainability team over the 2023 Formula 1 World Championship season. Someone who demonstrates a passion for motorsports and has a performance focused mind-set to help the team achieve their objectives. A creative thinker who is capable of driving impact and difference.
Key Responsibilities
Identifying projects and technology, helping set targets, implementing actions, and measuring outcomes to support the delivery of new sustainability strategy

Tracking, analyzing and reporting on carbon footprint data (such as manufacturing and product data) to improve carbon accounting across all emissions scopes

Using data analytics to identify solutions and support data driven decision making to achieve sustainability outcomes

Promoting the adoption of new approaches and innovation to improve sustainability performance

Supporting the maintenance and implementation of environmental certifications including (ISO14001 & FIA 3* Accreditation)
Essential Requirements
Awareness of key sustainability principles, industry trends and best practice standards

Ability to collect, analyze, and communicate complex data in a compelling and understandable way

Evidence of good interpersonal skills, being a team player and ability to forge strong working relationships with colleagues to collaborate across various internal functions including trackside team, facilities, operations, procurement, marketing, and finance

Background/Education in a STEM field, either in the physical or environmental sciences, with knowledge of sustainability/environment

Driven and self-motivated and able to proactively address challenges

Motivated and resilient to handle this highly challenging and fast-paced environment combined with passion for motorsport
Location
Brackley, UK.
Contract Period
Fixed term of 9 months (April 1, 2023 - December 31, 2023)
Download full job description (PDF 448kb)
---
On October 12 Akkodis hosted a LIVE Q&A session with the Mercedes Team who answered many viewer questions about the Lead the Charge Sustainability Project Consultant role and what it will be like to work with the world champion Mercedes-AMG PETRONAS Formula One team.
We discussed the main objectives of the role and how someone with a passion for motorsport and technology can drive innovative initiatives and create a more sustainable future together with the team throughout the 2023 Formula 1 season.