Akkodis launches annual Lead the Charge program with the Mercedes-AMG PETRONAS Formula One Team
Akkodis provides the unique opportunity to join the Mercedes-AMG PETRONAS Formula One Team to help accelerate the Team's sustainability roadmap through data analytics and technology.
5 minutes
12th of September, 2023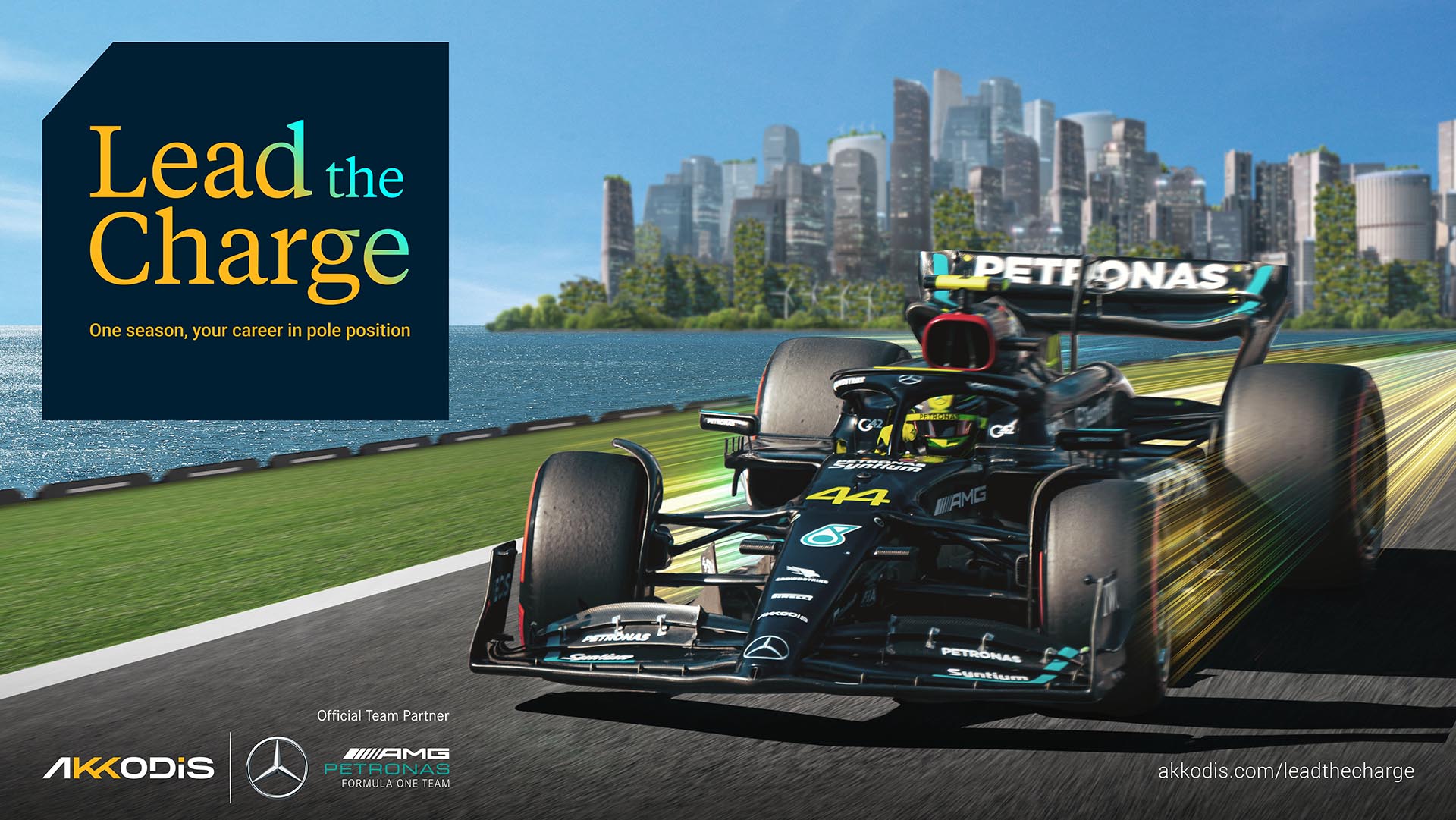 Zurich, September 12, 2023 — Akkodis today launched Lead the Charge, a sustainability and talent program which will offer a truly unique opportunity for one candidate to work within the Mercedes-AMG PETRONAS Formula One Team across the 2024 FIA Formula One World Championship season. The program is designed to encourage young tech-professionals to advance sustainability through data analytics and technology.
As a global Smart Industry leader, Akkodis is working with the Mercedes-AMG PETRONAS Team to help the team achieve its commitment to Net Zero. Both organizations understand that achieving this commitment will require incredible people, the best technology, and creative minds. Together, both partners are providing the opportunity for one selected candidate to make a tangible difference in pursuit of the team's sustainability goals.
Graduates or anyone with a technical background and a passion for sustainability and motorsports are encouraged to apply for the role.
This program, launched in 2021 with Mercedes-EQ Formula E Team and continuing in 2022 with the Mercedes-AMG PETRONAS Formula One Team, is now in its third year of providing young talent with career opportunities within both motorsports and Akkodis.
Toto Wolff, Team Principal & CEO, Mercedes-AMG PETRONAS Formula One Team said, "We're delighted to announce this opportunity with our partner, Akkodis. We are committed to our sustainability journey and Akkodis will play a key part in this by connecting us with talented individuals who want to shape the future. We know this program will attract world-class talent and I am positive that the successful candidate will help us succeed on and off the track. Good luck to everyone applying."
Jan Gupta, President of Akkodis said, "As a global leader in Smart Industry, we're striving to engineer a smarter and more sustainable future. Our partners at Mercedes-AMG PETRONAS Formula One Team are at the vanguard of sustainability in world motorsport, and we are proud to support them on their journey to Net Zero." He continued, "Through this global program we will give access to our global talent community and identify one incredible talent who will play an active role in achieving the team's ambitions. We will offer the right candidate a unique opportunity to accelerate development and put their career in pole position."
For more information on the initiative and details on how to apply, visit Akkodis.com/LeadTheCharge.
Media contacts
Rebecca Bleasdale
Group SVP, Head of Communications, Akkodis
M. +41786432613
E. rebecca.bleasdale@adeccogroup.com
Lisa Bushka
VP, External Communications, Akkodis
M. +18604630770
E. lisa.bushka@adeccogroup.com
About Akkodis
Akkodis is a global digital engineering company and Smart Industry leader. We enable clients to advance in their digital transformation with Consulting, Solutions, Talent, and Academy services. Headquartered in Switzerland and part of the Adecco Group, Akkodis is a trusted tech partner to the world's industries. We co-create and pioneer solutions that help to solve major challenges, from accelerating the clean energy transition and green mobility, to improving user and patient centricity. Empowered by a culture of inclusion and diversity, our 50,000 tech experts across 30 countries combine best-in-class technologies and cross industry knowledge to drive purposeful innovation for a more sustainable tomorrow. We are passionate about Engineering a Smarter Future Together. akkodis.com | LinkedIn | Instagram | Facebook | Twitter
About the Adecco Group
The Adecco Group is the world's leading talent company. Our purpose is making the future work for everyone. Through our three global business units - Adecco, Akkodis and LHH - across 60 countries, we enable sustainable and lifelong employability for individuals, deliver digital and engineering solutions to power the Smart Industry transformation and empower organizations to optimize their workforces. The Adecco Group leads by example and is committed to an inclusive culture, fostering sustainable employability, and supporting resilient economies and communities.  The Adecco Group AG is headquartered in Zurich, Switzerland (ISIN: CH0012138605) and listed on the SIX Swiss Exchange (ADEN). 
About the Mercedes-AMG PETRONAS Formula One Team
Mercedes-AMG PETRONAS Formula One Team is the works team of Mercedes-AMG, competing at the pinnacle of motorsport – the FIA Formula One™ World Championship.
Formula One is a sport like no other. Combining elite teamwork, cutting-edge technologies and innovation, high-performance management and exceptional driving skill, teams develop race cars capable of competing against their rivals in a high-octane environment that spans upwards of 20 races across five continents throughout each season.
The Mercedes-AMG PETRONAS Formula One Team, based across Technology Centres at Brackley and Brixworth in the United Kingdom, brings together over 1,000 dedicated and determined people that design, develop, manufacture and race the cars driven by seven-time World Champion Lewis Hamilton and Grand Prix winner, George Russell.
Winning seven consecutive double Drivers' and Constructors' World Championships from 2014 to 2020 and securing a record-breaking eighth consecutive Constructors' Championship success in 2021, the Team is one of the most successful in the sport's history.
Between returning as a Constructor in 2010 and the end of the 2022 season, the Mercedes-AMG works team has scored 116 wins, 264 podium finishes, 128 pole positions, 91 fastest laps and 54 one-two finishes from 259 race starts.
For further information, please contact:
Bradley Lord
Chief Communications Officer
blord@mercedesamgf1.com
+44 (0) 7785 682 893