Akkodis Expands Operations in India with Opening of Chennai Site
The global Smart Industry leader will add hundreds of new jobs across a variety of industries and tech skill sets.
5 minutes
26th of September, 2023
Akkodis, a global digital engineering company and tech business of the Adecco Group, today announced the expansion of its operations in India with the opening of a new office in Chennai to better serve clients, improve solution delivery, and develop talent. The office was inaugurated by Dr. T.R.B. Rajaa, Honorable Minister for Industries, Investment Promotion and Commerce, Government of Tamil Nadu, in the presence of Akkodis leaders. The Chennai location will complement the company's existing in-country presence in Bangalore.
Chennai is particularly attractive to clients and employees for its location, strong technology talent pipeline and rapidly growing business environment. Akkodis' investment in Chennai is expected to result in hundreds of new jobs across a variety of industries, skill sets, and all levels of experience. This location will further bolster the company's engineering domain expertise in fast-growing sectors and tech practices, including Infotainment, eMobility, Telematics, Software & Embedded Systems, 3D Design, Wiring Harness Design, Passive Safety, NVH & Durability. The team in Chennai will not only serve clients in local proximity but will also be part of a highly connected global network serving enterprise customers in other key markets such as, the US, EMEA, and Asia Pacific.
Hirren Turakhia, Group Senior Vice President Global Operations, Akkodis said, "The establishment of operations in Chennai is a milestone that supports Akkodis' multi-location growth strategy in India." He continued, "This expansion will enhance our current engineering and service capabilities and increase investments in tech practices and training through our established Academy network. Ultimately, this will better position Akkodis to deliver structured solutions for our clients and partners around the world, at scale."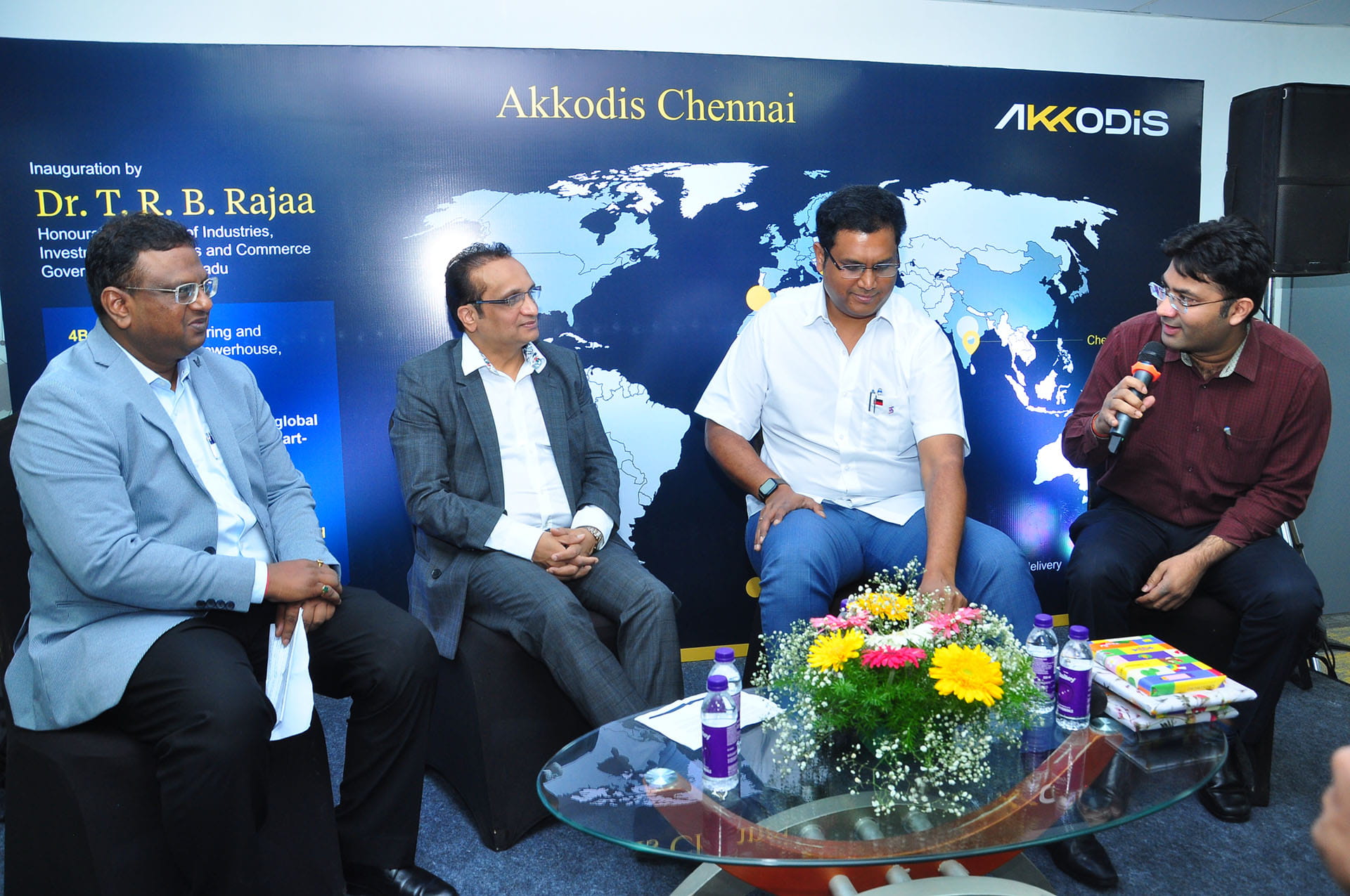 Pictured from left to right: Himanshu Agrawal, Hirren Turakhia, Dr. T.R.B. Rajaa and Nishant Krishna IAS
Himanshu Agrawal, Head of Akkodis' Global Delivery Center in India said, "Akkodis is investing in India because we believe in the tremendous potential of its rich and diverse concentration of talent and proximity to local clients, as well as its unique ability to serve clients in key global markets." He continued, "The opening of the new office in Chennai underscores our ongoing commitment to becoming the global partner of choice for Smart Industry transformation."
Akkodis' expansion in India plays a key role in the development and integration of the company's global network of delivery centers, each characterized by a talented pool of tech experts and innovators focused on bringing industry leading technology to its clients around the world.
About Akkodis
Akkodis is a global digital engineering company and Smart Industry leader. We enable clients to advance in their digital transformation with Consulting, Solutions, Talent, and Academy services. Headquartered in Switzerland and part of the Adecco Group, Akkodis is a trusted tech partner to the world's industries. We co-create and pioneer solutions that help to solve major challenges, from accelerating the clean energy transition and green mobility, to improving user and patient centricity. Empowered by a culture of inclusion and diversity, our 50,000 tech experts across 30 countries combine best-in-class technologies and cross industry knowledge to drive purposeful innovation for a more sustainable tomorrow. We are passionate about Engineering a Smarter Future Together. akkodis.com | LinkedIn | Instagram | Facebook | Twitter
About the Adecco Group
The Adecco Group is the world's leading talent company. Our purpose is making the future work for everyone. Through our three global business units - Adecco, Akkodis and LHH - across 60 countries, we enable sustainable and lifelong employability for individuals, deliver digital and engineering solutions to power the Smart Industry transformation and empower organizations to optimize their workforces. The Adecco Group leads by example and is committed to an inclusive culture, fostering sustainable employability, and supporting resilient economies and communities.  The Adecco Group AG is headquartered in Zurich, Switzerland (ISIN: CH0012138605) and listed on the SIX Swiss Exchange (ADEN). 
Contact
Rebecca Bleasdale
Group SVP, Head of Communications, Akkodis
M. +41786432613
E. rebecca.bleasdale@akkodisgroup.com
Lisa Bushka
VP External Communications, Akkodis
M. +18604630770
E. lisa.bushka@adeccogroup.com