Akkodis Positioned as Global Leader by Zinnov for its ER&D and Digital Engineering Services
Zinnov Zones ratings recognize Akkodis' capabilities in several categories, including ER&D Services, Digital Engineering Services, Data & AI Engineering Services, Automotive, Aerospace and Electrification.
5 minutes
9th of November, 2023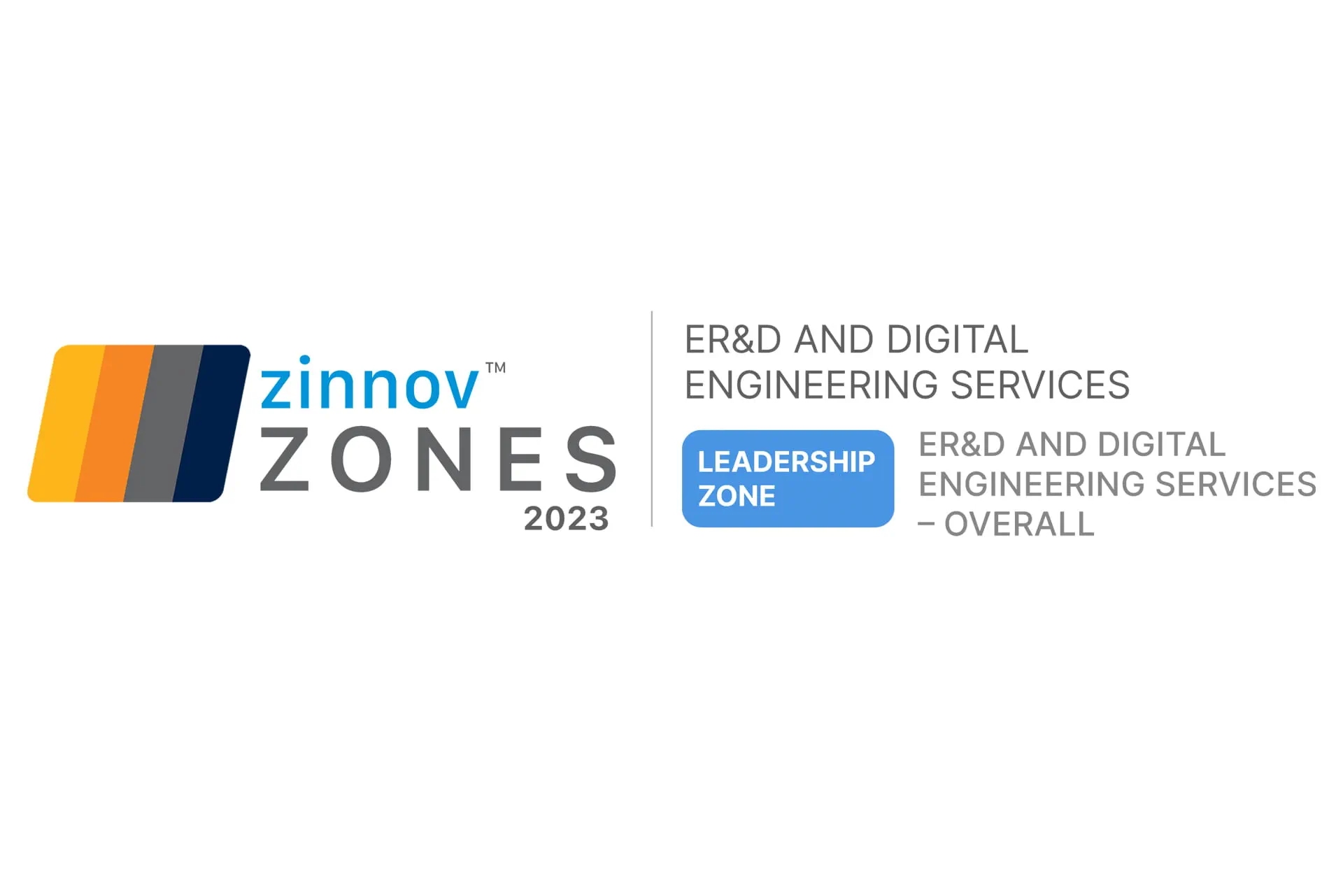 Zurich, Switzerland November 9, 2023 – Akkodis, a global digital engineering company and the tech business of the Adecco Group, is delighted to announce that it has been rated as a leader in the 2023 Zinnov Zones for ER&D and Digital Engineering Services Ratings Zinnov, a leading global management consulting firm conducted a 360-degree evaluation of around 60 of the top service providers as part of their annual ratings, assessing these firms' prowess and scalability across the ER&D value chain.
These ratings are considered to be the gold standard in the global ER&D and Digital Engineering market which enables business leaders across verticals to identify strong partners for faster and more efficient deployment of ER&D-led services initiatives around the world. They provide a comprehensive view of the global ER&D space and the assessment is further distilled across categories to provide a vertical, horizontal and geography lens-based view.
In the Zinnov Zones for ER&D and Digital Engineering Services 2023 Ratings, Zinnov recognized Akkodis as a leader in the overall Digital Engineering Services category, Data & AI Engineering Services category, as well as for its industry capabilities across Aerospace, Automotive and Electrification. The ratings also recognized Akkodis as a leader in ER&D Services category exhibiting notable performance in the Europe region.
"It is an honor to be recognized by Zinnov as a global leader in ER&D Services." said Jan Gupta, President, Akkodis. "This rating reflects Akkodis' commitment to enabling organizations around the world to accelerate and advance in their digital transformation by leveraging the power of the Smart Industry. Our engineering and tech experts are passionate about working side-by-side with clients and partners to co-create solutions and services, at the pace and scale that's needed to help them navigate disruption, increase performance, and stay ahead of the game."
Sidhant Rastogi, Managing Partner, Zinnov commented, "Akkodis' commitment to innovation and their deep expertise in incorporating cutting-edge technologies like AI, data analytics, and IoT in manufacturing-intensive sectors, set them apart. Their global delivery network, end-to-end solutions in future mobility, and impressive track record in delivering large-scale e-mobility services, have solidified Akkodis' position as an Automotive ER&D leader. Their strategic investments in cybersecurity, Software-Defined Vehicles (SDV), and sustainable technologies have positioned them as top contenders well entrenched in the leadership zone, of the 2023 ER&D and Digital Engineering Zinnov Zones ratings."
About Akkodis
Akkodis is a global digital engineering company and Smart Industry leader. We enable clients to advance in their digital transformation with Consulting, Solutions, Talent, and Academy services. Headquartered in Switzerland and part of the Adecco Group, Akkodis is a trusted tech partner to the world's industries. We co-create and pioneer solutions that help to solve major challenges, from accelerating the clean energy transition and green mobility, to improving user and patient centricity. Empowered by a culture of inclusion and diversity, our 50,000 tech experts across 30 countries combine best-in-class technologies and cross industry knowledge to drive purposeful innovation for a more sustainable tomorrow. We are passionate about Engineering a Smarter Future Together. akkodis.com | LinkedIn | Instagram | Facebook | Twitter
About the Adecco Group
The Adecco Group is the world's leading talent company. Our purpose is making the future work for everyone. Through our three global business units - Adecco, Akkodis and LHH - across 60 countries, we enable sustainable and lifelong employability for individuals, deliver digital and engineering solutions to power the Smart Industry transformation and empower organizations to optimize their workforces. The Adecco Group leads by example and is committed to an inclusive culture, fostering sustainable employability, and supporting resilient economies and communities.  The Adecco Group AG is headquartered in Zurich, Switzerland (ISIN: CH0012138605) and listed on the SIX Swiss Exchange (ADEN). 
About Zinnov
Founded in 2002, Zinnov is a global management consulting and strategy advisory firm with a presence in New York, Santa Clara, Seattle, Houston, Hyderabad, Bangalore, Gurgaon, Paris, and Pune. With a team of experienced consultants, subject matter experts, and research professionals, Zinnov has partnered with Global Enterprises, Fortune 2000 companies, Global System Integrators, and Private Equity firms across their value creation journeys to develop actionable insights – across revenue, talent, innovation, scale, and optimization. For more information, visit Zinnov.
About Zinnov Zones
Zinnov Zones is an annual rating published by Zinnov which assesses Global Service Providers based on their competencies, capabilities, and market success. Since 2009, Zinnov Zones (previously known as GSPR – Global Service Provider Ratings) has become one of the most trusted ratings globally, for both enterprises and Service Providers to better understand the vendor ecosystem across multiple domains such as Digital Transformation, ER&D Services, IOT, HIA, and Media and Entertainment. This is the fourteenth consecutive year that Zinnov has assessed Service Providers for their ER&D capabilities. The detailed ratings and contact information of Service Providers are available at:
https://zinnovzones.com/ratings/e-r-and-d-and-digital-engineering-services/overall/2023.
Contact
Rebecca Bleasdale
Group SVP, Head of Communications, Akkodis
M. +41786432613
E. rebecca.bleasdale@adeccogroup.com
Lisa Bushka
VP, External Communications, Akkodis
M. +18604630770
E. lisa.bushka@adeccogroup.com