"Lead the Charge" Winning Candidate
Akkodis provides a unique opportunity for a young tech enthusiast to work on the Sustainability Roadmap of the Mercedes-AMG PETRONAS Formula One Team. Meet our winning candidate Maryam Shaban.
8 minutes
20th of March, 2023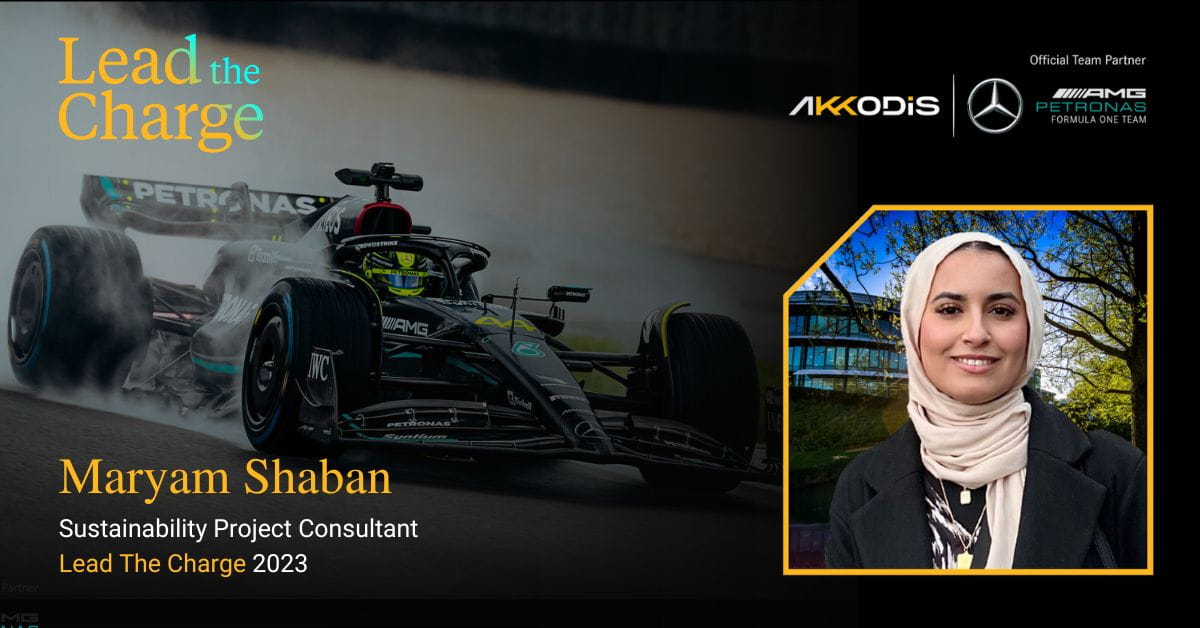 Akkodis, a global leader in Smart Industry, is working with the Mercedes-AMG PETRONAS Formula One Team to help the team achieve its commitment to carbon neutrality. This objective requires incredible people, the best technology, and creative minds. Together, both partners are providing an incredible career opportunity to students and young talents with technology know-how and a sustainability mindset to put their career in pole position and make a tangible contribution towards meeting the team's sustainability goals.
Today, we are proud to announce Maryam Shaban as the final selected candidate for the "Lead the Charge" Program this season. Maryam will take on a Sustainability Project Consultant role and work alongside experts at the Brackley-based Mercedes-AMG PETRONAS Formula One team, to develop and implement solutions to work towards a more sustainable future. Maryam Shaban received a Master's degree in Environment and Sustainability from the University of Western Ontario and has gained invaluable experience in a prior role as Junior Policy Analyst at Environment Climate Change Canada. Maryam will start her role in April 2023.
Students and young professionals with a sustainability and tech mindset from across the world applied for this unique opportunity. Akkodis used their tech solutions across the selection process, starting with a live Q&A, where interested applicants were able to ask questions in real-time to the Team providing insight into the role. The final assessment saw applicants participate in an individually designed virtual platform where candidates worked together to solve technology challenges. The group activity ensured a strong focus on mindset, expertise, and team spirit. The virtual platform facilitated the ability for international applicants to participate from home supporting Mercedes-AMG PETRONAS Formula One Teams sustainability goals.
Upon learning of her selection, Maryam said: "I am very excited that Akkodis has given me the chance to work on sustainability strategies with the Mercedes-AMG PETRONAS Formula One Team. It is truly an incredible opportunity for me to take part in the development and advancement of various sustainability initiatives."
Jan Gupta, President of Akkodis, commented on the appointment: "We are very proud to see Maryam take on the role of Sustainability Project Consultant within the Mercedes-AMG PETRONAS Formula One Team. At Akkodis, we are committed to working with the team to help achieving its objective of carbon neutrality, and this is a significant step on the ladder to achieving this. We look forward to seeing Maryam grow further on her journey and to seeing the contributions that she will make to the team."
Toto Wolff, Team Principal and CEO, Mercedes-AMG PETRONAS Formula One Team added: "We're thrilled to welcome Maryam to the team in what is an incredibly important role. Maryam was an outstanding applicant, thanks to her clear passion and understanding of how smart technology can be applied to drive sustainable solutions forward. We have no doubt that she will become a true asset to the Mercedes-AMG PETRONAS Formula One Team and Akkodis family."
For more information on the 'Lead the Charge' initiative, visit akkodis.com/LeadTheCharge
Contact
Rebecca Bleasdale
Group SVP Head of Communications, Akkodis
M. +41786432613
E. rebecca.bleasdale@adeccogroup.com

Lisa Bushka
VP External Communications, Akkodis
M. +18604630770
E. lisa.bushka@adeccogroup.com
About Akkodis
Akkodis is a global leader in the engineering and R&D market that is leveraging the power of connected data to accelerate innovation and digital transformation.
With a shared passion for technology and talent, 50,000 engineers and digital experts deliver deep cross-sector expertise in 30 countries across North America, EMEA and APAC. Akkodis offers broad industry experience, and strong know-how in key technology sectors such as mobility, software & technology services, robotics, testing, simulations, data security, AI & data analytics. The combined IT and engineering expertise brings a unique end-to-end solution offering, with four service lines – Consulting, Solutions, Talents and Academy – to support clients in rethinking their product development and business processes, improve productivity, minimize time to market and shape a smarter and more sustainable tomorrow. Akkodis is part of the Adecco Group.
Contact
media@akkodis.com
About the Adecco Group
The Adecco Group is the world's leading talent company. Our purpose is making the future work for everyone. Through our three global business units - Adecco, Akkodis and LHH - across 60 countries, we enable sustainable and lifelong employability for individuals, deliver digital and engineering solutions to power the Smart Industry transformation and empower organizations to optimize their workforces. The Adecco Group leads by example and is committed to an inclusive culture, fostering sustainable employability, and supporting resilient economies and communities. The Adecco Group AG is headquartered in Zurich, Switzerland (ISIN: CH0012138605) and listed on the SIX Swiss Exchange (ADEN).
https://www.adeccogroup.com/
About the Mercedes-AMG PETRONAS Formula One Team
Mercedes-AMG PETRONAS Formula One Team is the works team of Mercedes-AMG, competing at the pinnacle of motorsport – the FIA Formula One™ World Championship.
Formula One is a sport like no other. Combining elite teamwork, cutting-edge technologies and innovation, high-performance management and exceptional driving skill, teams develop race cars capable of competing against their rivals in a high-octane environment that spans upwards of 20 races across five continents throughout each season.
The Mercedes-AMG PETRONAS Formula One Team, based across Technology Centres at Brackley and Brixworth in the United Kingdom, brings together over 1,000 dedicated and determined people that design, develop, manufacture and race the cars driven by seven-time World Champion Lewis Hamilton and Grand Prix winner, George Russell.
Winning seven consecutive double Drivers' and Constructors' World Championships from 2014 to 2020 and securing a record-breaking eighth consecutive Constructors' Championship success in 2021, the Team is one of the most successful in the sport's history.
Between returning as a Constructor in 2010 and the end of the 2022 season, the Mercedes-AMG works team has scored 116 wins, 264 podium finishes, 128 pole positions, 91 fastest laps and 54 one-two finishes from 260 race starts.
For further information, please contact:
Bradley Lord
Strategic Communications Director
blord@mercedesamgf1.com
+44 (0) 7785 682 893