Akkodis unveils sustainable mobility ecosystem at IAA Mobility
Akkodis' innovative Smart Battery contributes to connected mobility and circular economy.
8 minutes
4th of September, 2023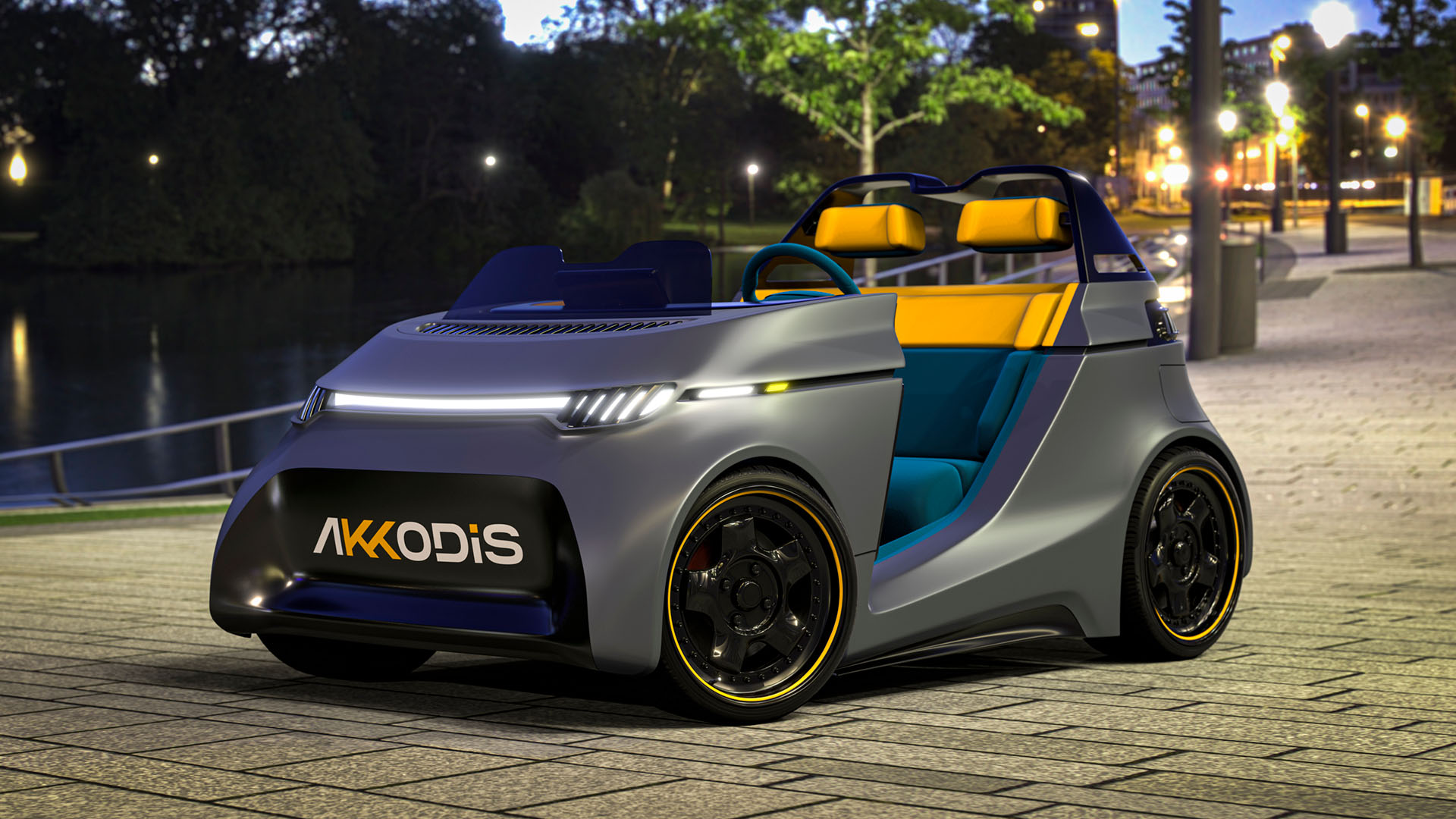 Akkodis Urban Lifestyle Vehicle as a tech demonstrator of the Smart Battery. Copyright: Akkodis
Munich, September 4, 2023 – Akkodis, a global digital engineering company and Smart Industry leader, is debuting a digitally connected and sustainable mobility ecosystem at IAA Mobility this week. The unique concept is comprised of various electrically powered modes of transport such as e-bikes, e-scooters and e-cars. At the core of this concept is the Akkodis Smart Battery, a modular battery system that can be easily interchanged amongst a variety of transport modes. Visitors to the Akkodis booth at IAA Mobility will have a chance to get 'hands on' with this ecosystem – which includes an Urban Lifestyle Vehicle (ULV), developed by Akkodis experts – to demonstrate how the Akkodis Smart Battery concept works in practice.
The future of mobility will be marked by electrification and the development of shared, flexible, and integrated offerings across all modes of transport. As digital solutions such as car sharing and ride hiring become more popular, easy accessibility and interoperability are becoming increasingly important. Connections between different vehicle types and charging infrastructures is necessary for optimal and sustainable use of battery-based drive systems. To date, however, the need for flexible and uniform solutions has not been systematically addressed at scale. For example, vehicle batteries are not standardized and cannot be swapped between different applications. Akkodis' sustainable mobility ecosystem is based on the concept of fitting different battery technologies into a standardized framework in a modular way, and provides a solution to these key mobility challenges.
The Akkodis Smart Battery is highly flexible – the size and interface are standardized yet different battery chemistries and cell types can be used inside the module. This allows for the selection of various configurations, such as a high power output or a high number of charging cycles. With a maximum weight of 18 kg, it can also be easily swapped between different modes of transport. The battery management system (BMS), hosted in the cloud with AI-supported battery state of health (SOH) capability, can also determine if the battery must be exchanged for a fully charged battery at appropriate charging stations. This enables communication between different vehicle types in a mobility ecosystem.
The idea behind the smart ecosystem is not limited to the transport sector, but extends to all battery-powered applications, contributing to a sustainable, circular economy. With its solution named chain2battery, Akkodis uses digital ledger technologies (DLT) to ensure trusted tracability of the exchangeable battery modules and support sustainability in the context of resource-efficiency in the battery lifecycle. The concept can also be utilized in the energy sector. For example, the battery is designed for stationary use as an energy storage system – when the battery reaches its useful life in a vehicle, it can then be employed to support a local solar power system. The standardized design of this module allows for judicious and efficient 'multiple life' use, and the robust module construction can be completely recycled.
Tino Glatzel, Vice President Mobility Solutions at Akkodis, explains: "It is fantastic to be here at IAA Mobility today to showcase our concept for a complete and connected mobility system of the future. It makes a decisive contribution to the networking of the transport sector, which is becoming more and more electricity-based." He continued, "The concept and innovative design of the battery, combined with digital integration, enable long-term and resource-efficient use across a variety of applications. At IAA Mobility, we are showcasing digital innovations in the mobility sector that demonstrate how we can leverage the full potential of the Smart Industry."
Part of the Adecco Group, Akkodis is currently working with partners on charging stations, solar power connection and e-scooters and is looking to expand its network to test additional applications that will ultimately turn this ecosystem into a reality.
Akkodis is active in all industries that are crucial for a sustainable and connected future. Our expertise is particularly applied in Germany in the Automotive & Transportation, Aerospace and Energy & Clean Tech industries and across digital engineering, and cybersecurity tech practices.
About Akkodis
Akkodis is a global digital engineering company and Smart Industry leader. We enable clients to advance in their digital transformation with Consulting, Solutions, Talent, and Academy services. Headquartered in Switzerland and part of the Adecco Group, Akkodis is a trusted tech partner to the world's industries. We co-create and pioneer solutions that help to solve major challenges, from accelerating the clean energy transition and green mobility, to improving user and patient centricity. Empowered by a culture of inclusion and diversity, our 50,000 tech experts across 30 countries combine best-in-class technologies and cross industry knowledge to drive purposeful innovation for a more sustainable tomorrow. We are passionate about Engineering a Smarter Future Together. akkodis.com | LinkedIn | Instagram | Facebook | Twitter
About the Adecco Group
The Adecco Group is the world's leading talent company. Our purpose is making the future work for everyone. Through our three global business units - Adecco, Akkodis and LHH - across 60 countries, we enable sustainable and lifelong employability for individuals, deliver digital and engineering solutions to power the Smart Industry transformation and empower organizations to optimize their workforces. The Adecco Group leads by example and is committed to an inclusive culture, fostering sustainable employability, and supporting resilient economies and communities. The Adecco Group AG is headquartered in Zurich, Switzerland (ISIN: CH0012138605) and listed on the SIX Swiss Exchange (ADEN).
Contact
Lisa Bushka
VP External Communications, Akkodis
M. +18604630770
E. lisa.bushka@adeccogroup.com
Anne Friedrich
VP, Head of Marketing & Communications
Germany, Akkodis
M. +4915174633470
E. anne.friedrich@akkodis.com