Celebrating 10 Years as an AWS Partner
By James Bromberger - Global AWS Partnership & AWS Cloud Practice Director.
5 minutes
16th of November, 2023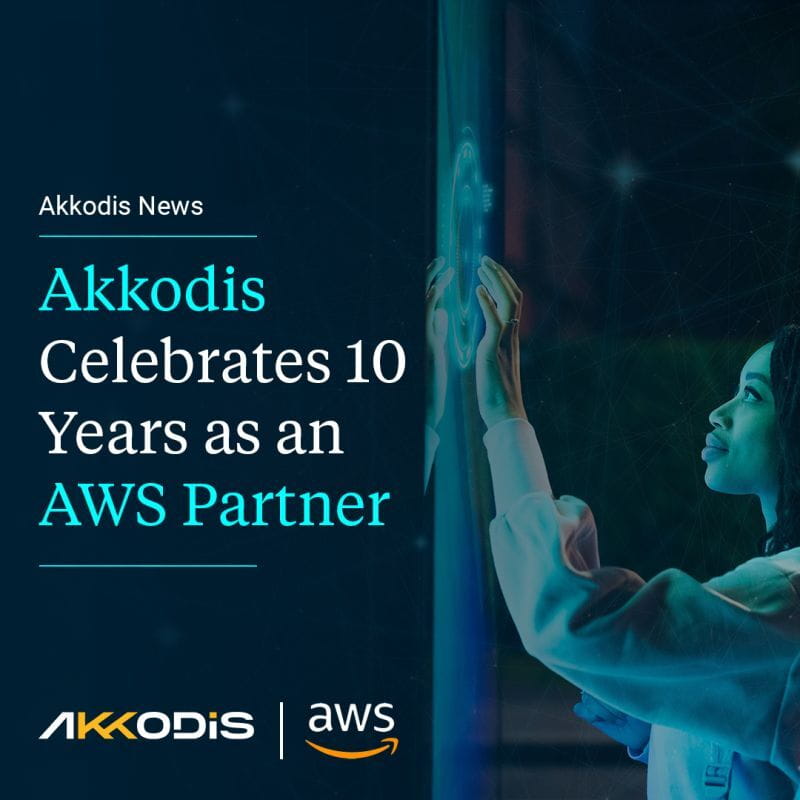 In 2013, Akkodis became an AWS Consulting Services Partner, having started our first AWS workloads in 2012 with an Australian Public Sector customer.
What started with some initial experimentation with virtual machines in Amazon EC2 is now a Consulting Services, ISV and Training partnership that spans across the USA, Europe, Japan, and Australia. It is a capability that has been at the leading edge of Serverless, Cloud Native integration, migration & operation. It's a depth of knowledge that sees Akkodis staff participate in the AWS Certification Subject Matter Expert program – helping contribute to the certification questions that the industry wishes to pass. It's the experience for Akkodis to be one of the longest participants in the AWS Partner Ambassador program for the most capable engineers in the AWS Partner ecosystem.
10 years of experience in implementing and operating digital systems, including authoritative government and enterprise systems of record in the AWS Cloud means the Akkodis team understand not just how to get to the Cloud, but how to keep the Cloud contemporary, secured, and effective. With a 30-year+ pedigree in being the brains and hands that implement digital solutions for our customers, this level of experience is key.
Significant events on the journey
In mid-2012, AWS launched the first Point of Presence (Edge Location) in Australia, and Akkodis started its first Proof of Concept implementations with several public sector agencies.
In November 2012, AWS completed its arrival in Australia with the launch of the ap-southeast-2 Region.
In 2013, Akkodis became an AWS Partner, and in 2014, Akkodis graduated to the Advanced Tier, collecting Service Delivery Recognitions along the way: Public Sector Partner, RDS Service Delivery, CloudFront Delivery, etc.
In 2015, Akkodis had its first production workload, with authoritative system of record for a public sector customer, running in AWS in Australia. AWS Certifications: 1.
In 2016, Akkodis launched the first production Lambda serverless workload in Public Sector in Australia.
In 2018, Akkodis was recognised as an AWS Government Competency partner and our AWS Certifications now stand at 17. This was also the year our practice expanded into Japan, Italy, Bulgaria, the UK, and the USA.
In October 2019, Akkodis achieved 50 AWS Certifications, and six months later, doubled that to 100.
In 2020 we started a major AWS Cloud migration in France.
In 2022, Akkodis was recognised as an AWS Security Competency partner. AWS Certifications now stand at 308.
In 2023, Akkodis has over 345 AWS Certifications
What's next?
Well, despite the best in predictive analytics and generative AI, we can't be sure of everything. We will continue to invest in our team's training and development, certification and any other aspect of education that assists our engineers support our clients.
What's our secret?
We focus on Well-Architected principles of cloud engineering when delivering solutions to clients, as we have since the start of our own AWS Cloud journey. We collaborate rapidly with associates within AWS to achieve better outcome for our clients and for all AWS customers.
We are passionate about technology, security, reliability, upskilling, and client satisfaction.
We are hiring the brightest AWS Cloud capable talent (across SysOps, Developers, DevOps, Analytics, and beyond) in multiple countries. We are also hiring Certification SMEs, AWS Authorised Instructors (AAI), Heros & Ambassadors, AWS Alumni, and thought leaders who want to collaborate with our team and our clients to improve the world. To join our impressive team visit our website.
To learn more about our work with AWS, please visit; Akkodis AWS Cloud Services | Akkodis
We are engineering a smarter future, together.