Thinkers and Makers: Introducing Embedded Software Developer and Bug-fixer Extraordinaire Rose Thomas
Kerala-born software whizz Rose Thomas originally trained as an electrical engineer in India but now works for Akkodis in the southern German town of Ulm. She likes nothing more than debugging automotive code, but the journey to her current role featured some twists and turns of its own, as she explains.
5 minutes
30th of August, 2022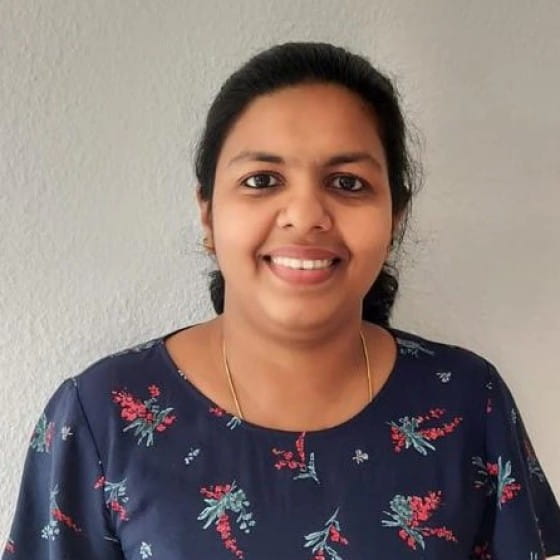 "From an early age, I had a passion for maths and physics. Far fewer girls than boys were interested in that at my school, but that didn't deter me. I knew I would end up working with technology."
Embedded software developer Rose Thomas is doing just that today at Akkodis.
But her career path wasn't always straightforward. Growing up in rural Kerala, India, the emphasis was firmly on making sure your studies would result in a job. Rose took an undergraduate degree in electrical and electronics engineering and soon found work as a project engineer for a Chennai construction firm, focusing on preparing bids for building electricity substations.
Her true passion was coding. "I could do the substation work just fine, but I wasn't passionate about it. I found it boring, so I decided to switch."
After a two-year stint working in power engineering, Rose went back to school. First, she studied for a Master's in VLSI design – the process of creating an integrated circuit by combining thousands of transistors in a single chip. Her alma mater, Chennai's SRM University, counts Gen-Z chess grandmaster Arjun Kalyan and Nethra Kumanan, the first Indian woman sailor to qualify for the Olympics, among its alumni.
And then in 2017 came the big move. Rose emigrated to Germany, where she completed a second Master's degree in electrical and embedded systems at the Ravensburg-Weingarten University of Applied Sciences. She then interned, developing electronic control unit (ECU) software for two companies in Bavaria and Baden-Württemberg.
From test engineer to coder
In the summer of 2019, Rose joined Akkodis. She began as a test engineer and is now working as an embedded software developer focused on the automotive industry. Rose's core job is to debug ECUs. "It is work I am naturally very curious about! – I never get bored of finding bugs," she enthuses.
Cars today may use more than 100 ECUs, controlling everything from engine and power steering to windows, seats, security, and heating, ventilation, and air conditioning systems. "What I am doing is a small part of a much bigger project, and I love it." Rose's portfolio of programming languages now includes C, C++, and Python.
Flexibility and following your dream
Our flexible working structure suits Rose. She works at home and at the times of the day when she's most productive, such as early in the morning. One of her projects is to learn German and colleagues are helping her out with her language skills on calls.
Akkodis provides workers with a lot of support, says Rose. "We have support from a mentor, although I'm experienced enough not to require that as much now as in the first few months. But they are always available. And if you have a problem, colleagues are ready to help."
Does she have any advice for girls thinking of becoming programmers? "Yes – if you want to do something, go for it! If you're from a Western country, you're more likely to be able to go into the field you really want to be in from the beginning."
Rose is now in her early 30s. "It took me a long time to do what I actually wanted to do," she explains. "So I would say if you're interested in something, study it, and don't let the fact that girls aren't represented as much put you off.
"If you are passionate about maths or coding, come to it as soon as you possibly can."