Thinkers and Makers: Introducing Automotive Software Specialist Soumya Mohapatra
Based in the beating heart of India's IT industry, Bangalore, Soumya Mohapatra is keeping cars safe using her range of programming skills. She explains why code is crucial to modern vehicles, how women engineers are on the rise in India, and why her manager is more than just a boss.
5 minutes
11th of October, 2022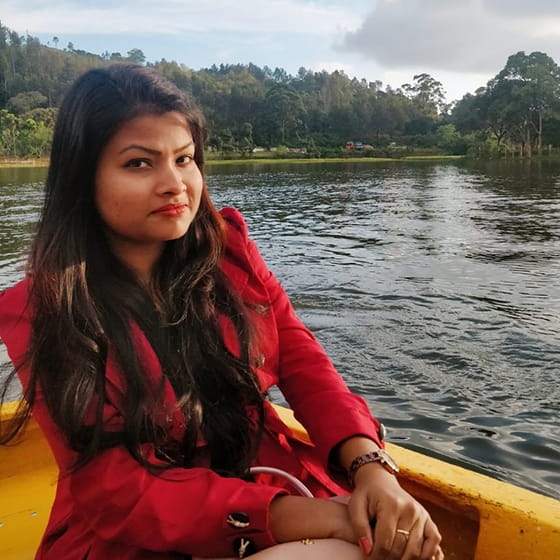 "We call Bangalore the "Silicon Valley of India". It's such a stimulating place, both in terms of the technologies we work with but also the people. Engineers travel to Bangalore from all over the world, so culturally, it's exciting, too."
Akkodis embedded software developer Soumya Mohapatra is proud to live and work in the Indian city of more than 13 million. In fact, she is one of more than 600 Akkodis engineers based in Bangalore and India's National Capital Region (a sprawling urban-rural area centred on Delhi).
The modern car: a sophisticated computer
A modern car may contain more than 100 million lines of software code. For example, the latest automatic transmissions use a lot of electronics, such as speed and pressure sensors, electrically operated valves, and temperature sensors. These systems are controlled by a central computer that must be programmed. Soumya is an expert in coding software for transmissions that averts problems that might compromise safety, and she is also working on a project to develop a battery management system.
Her specialisms include Embedded C, Automotive Open System Architecture and Matlab, which is used by programmers to develop and test control algorithms. Soumya studied for her BTech in electronics and telecommunications engineering at the Silicon Institute of Technology in Bhubaneswar, Odisha. Her experience also includes a spell as a software engineer at Altran and working on climate control module design and modelling projects for Ford India.
Female Indian engineering workforce swells
Although there is an imbalance when it comes to the split of genders in engineering, times are changing, Soumya says. "The numbers of women in industry in India are going up all the time. I would say to the younger generation of girls that if you invest in studying engineering, it gives you the chance to do something really stimulating and make a good living as part of the bargain."
Akkodis is a good employer if you are female, she adds. "Women are given the same opportunities as men." There is a supportive culture here. "My manager has been an important mentor. If there is an issue, big or small, he addresses it."
In her spare time, Soumya enjoys cooking for family, especially when it comes to fusion of Indian cuisine. She also has a strong creative streak. "Since childhood, I've enjoyed drawing and painting, whether it's scenic watercolours or painting portraits."
She expects to develop other automotive industry skills in the future and to travel more for work. "Akkodis offers a lot of training. I expect to gain more certifications in safety standards to give me opportunities to work on other projects and grow my career.
"I've already had the opportunity to learn a lot. There are always challenges to embrace at work, but Akkodis is a lot of fun, too. If you're keen on a career as an engineer, there's nowhere better to start."
We offer lots of great job opportunities for talented software developers in India and other parts of the world. Visit our careers page to find out more.