India in Focus: Introducing Sushma Nayak
"We're not dealing with machines, we're dealing with humans," says Senior Talent Acquisition Specialist.
5 minutes
5th of October, 2023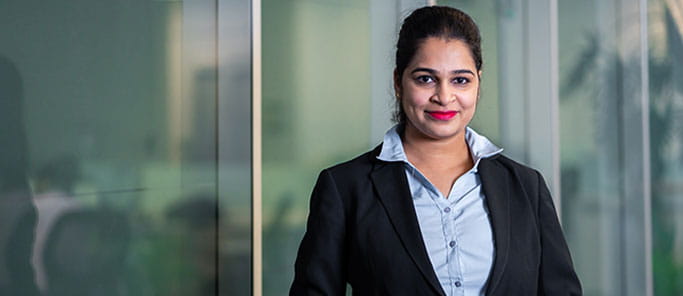 The secret to any thriving organization is its people. When you land the right talent, every aspect of the business benefits. This universal truth is epitomised by Sushma Nayak, a Senior Talent Acquisition Specialist with a proven track record at Akkodis.
It takes the right talent to attract the right talent
Recruiters are vital to any company, adept at not just hiring but shaping a harmonious work culture, preserving resources, and mitigating risks. Their role is integral to propelling Akkodis towards a bright future.
That's why having a top-tier recruitment team is essential to attracting the best talent.
That's where Sushma Nayak comes in. Based in India, Sushma is responsible for recruiting for German-based projects.
Her keen eye for talent is unsurprising, given her background. In 2017 she graduated with a BE in Information Science from the Srinivas Institute of Technology, one of the top engineering institutes in Mangalore, Karnataka. "My mother told me that if I wasn't going to do a medical degree, I should do an engineering one," she says.
But, during her studies, Sushma discovered she had the skills for people management. "I was always busy convincing people to join societies, to get involved in fashion shows, that kind of thing."
After graduating, she decided to explore this hidden talent further and worked in recruitment for a couple of start-ups. In April 2021 she got a call from Akkodis to join their team recruiting engineers for aerospace projects. Sushma had read great things about Akkodis and jumped at the opportunity.
Coming back home
In October 2022, after 18 months at Akkodis, Sushma moved on for personal reasons and was offered a position with a multinational corporation. Within - literally - the first day in her new role, she wanted to come back. "I didn't like the work culture. I felt badly treated. And, subconsciously, somewhere, I was missing what I had. I'd go on LinkedIn and see, 'Akkodis … Akkodis … Akkodis' and, honestly, I felt jealous."
Sushma quickly realised the grass isn't always greener and, after just a few months with the company, she took some much-needed time out in Goa, where she had an opportunity to reflect. "I kept thinking: why did I leave? So, I put in the call to Akkodis and said, 'If you think there's a good opportunity, I'll come back.'"
The next day she heard back with an attractive offer to take up the lead position of recruiting for Germany's auto digital requirements, working out of India.
Her first stint at Akkodis had some demanding periods. "My father passed away in the first months I was there. I was emotionally devastated. My former CEO told me to take some time. I was back within 20 days. I told my mother, 'I just want to get back to work.'
You know the saying, 'Empty spaces are the devil's workshop'? I wanted to be busy. It helped that I was so well supported. Every day I got a call from Akkodis leaders to check in with how I was emotionally. My former manager would always call and ask if I needed any help."
So how did it feel coming back? "I got a warm welcome," she says. "I was happy to be back. Bangalore is one of the best places to be."
The future's bright
A lot had changed in the two years since she'd first joined. 'When I left there were around three to six people in my department. When I came back, there were 20 plus.'
Akkodis is growing quickly. If you want to develop, she says, it's the place to be.
"I could go and do an MBA in HR, but why? I can do my upskilling right here."
There were other reasons to return, namely the culture and work-life balance. "The flexibility is there for everyone. You can perform multiple roles. Say if tomorrow I wanted to jump into more technical things, I could do that. I've studied engineering. Here, you're the decision maker. You don't get that at other places."
So, is her future with Akkodis?
"Absolutely. Yes, hiring is challenging but every day I'm learning from my colleagues and my manager."
To succeed in recruitment takes a range of skills. You need to get the brand identity just right. You need to know that where you're recruiting for is special, then pass that on to candidates. You need to be confident, adaptable, and have first-rate time-management and organisational abilities.
Above all, you need good interpersonal skills. As Sushma says, "We're not dealing with machines, we're dealing with humans."
Sushma has these soft skills in abundance, and Akkodis nurtures them. "I want to tell people at every opportunity I get that this is a great organisation to work with, to say: 'Just come and join us.
Is that advice that Sushma heeds? "Oh yes. I won't be leaving again anytime soon."
We offer lots of great job opportunities for talented people of all levels - both in India and other parts of the world. Visit our careers page to learn more.