Behind the scenes of railway training simulators – meet the team making train travel safer
Since 2016, Akkodis has delivered over 20 driving simulator projects for numerous sectors: aviation, automotive, railways and naval. We spoke to two engineers who opened the doors of the Akkodis' Andromède center in Blagnac. They share the technological challenges and innovations - and how their state-of-the-art training simulators have a direct impact on transport safety.
5 minutes
8th of November, 2023

Xavier Parera - Business Manager
Since 2016, the Akkodis center of expertise in Blagnac has completed more than 20 projects. Streetcar, subway and train drivers all over the world get trained in their impressive replica cabs and driving stations. There's no such thing as a typical day on the job, because of the sheer variety of tasks to be accomplished and because every simulator is unique. There are many variations when it comes to the rolling stock to be simulated, the precise layout of the lines and their signaling or the classroom configuration.
In charge of railway simulator projects, Xavier brings a wealth of experience in project management and rail driver training. Trained as an IT engineer, he has held successive positions as developer, project manager and then business manager. This somewhat atypical position at Akkodis covers the responsibilities of a Project Manager and Business Manager and also includes elements of Delivery Management. Xavier manages the railway division, draws up technical and financial bids, and manages customer relations with Alstom. It's a very versatile role.
Xavier emphasized the long-lasting relationship with the center's main client: Alstom, a world leader in rail transport. "We managed to gain Alstom's confidence in our ability to create bespoke simulators and this has cemented our partnership. We started by showing them virtual procedure trainers and cockpit simulators for a prestigious French aeronautical company, which really impressed them," recalls Xavier.
The rail simulation market is highly competitive, but Akkodis convinced the client by developing entirely custom-made simulators, with the support of a highly experienced team. "Alstom wanted to have their own product and not depend on someone offering a ready-made solution. With their support, we were able to introduce innovations such as full 3D simulation," says Xavier.
These simulators allow trainees and instructors to operate in the same virtual world. Instructors can pick up their avatar, move it around the train and create events in real time, such as triggering an alarm on an equally virtual train door. "It's a flexible, multi-purpose tool that lets you edit scenarios, test them live, manage users and run training sessions," says Xavier. "It's a unique solution in the driving simulators market."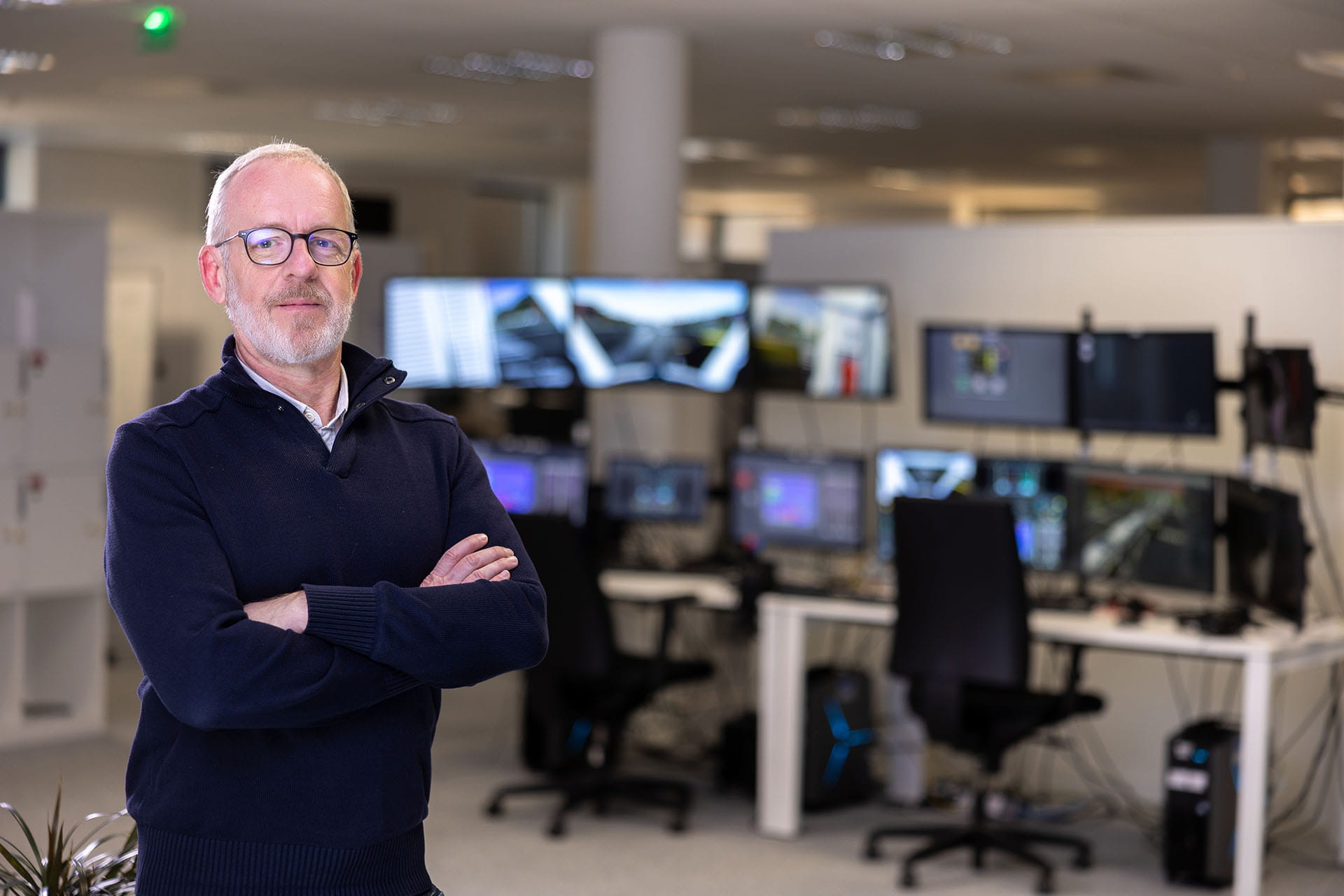 Cyril Boudias - Head of Department
Cyril has enjoyed a rich and varied career in the fields of simulation and software development. He began as a developer of educational and research software in the field of materials science, a position he held successfully for 12 years. He then worked for 7 years in a Toulouse-based company as a project manager and a technical lead for simulators. He's headed their software development department since 2012.
Following the acquisition of the company he continued in this role within the "Immersive Solutions" Services of Akkodis. Through this experience, Cyril has consolidated his role as an expert in software development and simulation solutions. A true technical pillar, he takes part in building software architecture, designing computer systems and developing modules. He provides technical support to the teams, helps to draft responses to calls for tender and keeps abreast of the latest technological developments.
Talking about these international projects, Cyril explains why they spark so much interest. "Our projects are regularly presented during visits to the Andromède site in Blagnac, both to our colleagues and to customers. They offer an 'unforgettable' experience and give people an insight into technologies such as virtual and augmented reality."
The excitement that comes with cutting-edge technology, as well as the tangible and impressive results, have contributed to the team's longevity: "The adventure began with the first major project: the cockpit simulator program that we built between 2012 and 2014," remembers Cyril. "We recruited staff with a range of skills and expertise. This was true of the technical leader, who came from a simulation background and had a strong grasp of complex industrial systems. This was also the case for the real-time 3D developers who are still with us today." 
Such success reflects Akkodis' ongoing commitment to collaborate with Alstom and keep the driving simulator market firmly on track.
Inspired by the work of Xavier and Cyril? Want to work on engaging, rewarding projects like this? To find out more about our first-class opportunities for career development, visit our Careers page.